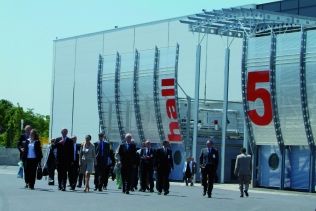 Professional trade fair for business and public the exhibition center in le Bourget is quite active along with the Villepinte exhibition center in the north-east of Paris; these two big trade fair centers have an added advantage in that they are close to Paris. Le Bourget is ideally situated less than 10 km from Paris, 1 km from le Bourget airport and 15 minutes from Roissy Charles de Gaulle International airport. The exhibition center Paris Le Bourget has 5 exhibition halls.  
Address of Paris Exhibition Centers Villepinte and Bourget - Seine-Saint-Denis – 93:

Paris Le Bourget Exhibition Center
96 Avenue de la Division Leclerc - 93350 Le Bourget

Paris-Nord Villepinte - Exhibition and Conventions Center
ZAC Paris Nord 2 - 95970 Villepinte
Practical information: transportation and hotels
Whether you are coming on a business trip to Le Bourget for general or professional reasons it is necessary to organise your trip (public transport RER, bus or car) from Paris or from the Parisian airports. Otherwise it is necessary to know where to park around the Exhibition Center, book your hotel or find a restaurant,….
Roissy, Paris, le Bourget: RER B map and bus stations on bus line 152
Paris Le Bourget Exhibition Center Bourget: RER B between Mitry-Claye - CDG 1 and 2 Airports and Robinson - St Remy les Chevreuses
Take a look below to find the stations located north of line B between Antony (close to Orly airport) and to Roissy CDG airport as well as the RER stations including the different tarif zones crossed.

Source: Sncf Transilien - download the map of RER line B, and  timetable,...
Coming from Gare du Nord Paris to get to le Bourget...

When you arrive at Gare du Nord Paris, go down to the third level - platform 43 to take RER line B direction Mitry-Claye-CDG 1 et 2 Airports. Between Gare du Nord station and le Bourget, there are 3 stops and one train every 15 minutes.
In case of problesms on line RER B, take the Metro or bus to get to or come from le Bourget
In the case of  a strike or transport problems with RER B, take the metro line 7 at la Courneuve/Aubervilliers stations and after the free shuttle or bus 143 to Jaurès-Division Leclerc and then bus 152 which will drop you off Michelet station for the Parc des expositions.
Bus Line 152 from Paris to le Bourget stations with metro connections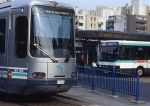 Bus Line 152 will take you directly from Porte de la Villette to Le Blanc-Mesnil industrial zone Pont Yblon. Get off at the stop 'le parc des expositions'.
Bus stops on line 152 between RER B Le Bourget and parc des expositions : 
·      Jean Jaures–Division Leclerc (the station is located near RER B du Bourget) 
·      Anizan–Cavillon–Hôtel de Ville 
·      Pierre Curie 
·      Eglise 
·      Michelet–Parc des Expositions (Bourget)
If you have booked your hotel room in Paris close to Porte de la Villette, it is easier to take bus 152 (departure at La Villette; it also serves métro Ligne 7 and tramway T3b)  to the bus stop Michelet-Parc des Expositions Bourget (take a ticket for zone 2-3)
Here are details below about all the stops on the bus line 152 between Paris La Villette and Parc des expositions at le Bourget (you will also find a detailed map of line 152 on the RATP website)
Departure: bus 152 leaves at Porte de la Villette and stops at all these stations : 
·      Magenta  
·      Aubervilliers–Pantin Quatre Chemins - Access metro line 7 
·      Condorcet 
·      Cimetière Parisien 
·      Rechossière 
·      Fort d'Aubervilliers - Access metro line 7 
·      Helene Cochennec 
·      Edouard Vaillant–Jean Jaurès 
·      La Courneuve 8 Mai 1945 - Access metro line 7 and Tramway T1 
·      Rue Rateau 
·      Av. P. Vaillant-Couturier n°176-191 
·      Jean Jaurès–Division Leclerc - bus 143 
·      Anizan–Cavillon–Hôtel de Ville 
·      Pierre Curie 
·      Eglise  
·      And finally Michelet–Parc des Expositions
To visit the Air and Space Museum (entrance to the permanent collection is free) go 2 stations further.
The wait for the 152 bus is about 10 minutes on weekdays and 15 minutes on Saturdays (on Sundays, about 20 minutes between 2 buses).
From Paris airports to Le Bourget exhibition center
Aéroports de Paris boasts three airports around Paris and one of them is for private, business purposes and the other two for the general public: Le Bourget business airport, Roissy Charles de Gaulle and Orly.
Distance between le Bourget private business Airport and le Bourget parc des expositions
The business airport in le Bourget is located close to le Bourget exhibition park and the Air and Space museum.  It is an entirely private international business airport dedicated predominantly to business affairs, private jets, commercial aircraft…
The distance between the two sites is about one kilometer, which is barely about two minutes by car and two stops away by bus 152 from Porte de la Villette.
From Roissy CDG Airport to Le Bourget Exhibition Center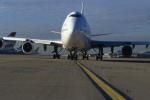 The airport Roissy Charles de Gaulle is located in the north east of Paris 15 kilometers from Le Bourget Exhibition Center.
It is accessible by Parisian public transport: train, rer, bus, metro, tramway, free shuttle, taxi.
RER line B – stop at Le Bourget – and then take bus 152 direction Blanc-Mesnil, and get off the bus at 'parc des expositions'.
For a trip by taxi or by car, take the highway A1 from Roissy CDG direction Saint-Denis- Paris center then the N2 in direction of Le Bourget (count for about 20 minutes at least).
The organizers of the trade fairs often offer free shuttles to come or go from le Bourget exhibition center. When you book your access badge for your professional trade fair, shuttle information is clearly available on the website of the fair trade organizers.
How to go from Orly to Le Bourget exhibition park ?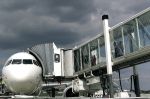 Orly airport is located in the south of Paris over two of the Parisian departments (91 and 94). You can get to « parc du Bourget » by taking Orlyval to Antony and then take the RER B to the stop 'Le Bourget', take the bus 152 direction Blanc-Mesnil – get off at 'parc des expositions' (public transport takes about an hour with a ticket zone 1 to 3).
The distance by car to «parc expo du Bourget » and Orly airport  is about 30 to 40 km. It depends on your itinerary taken, either by highway A106 and the ring road, or A4 and A86 or N2.
From Gare du Nord to Orly

From Gare du Nord to get to Orly airport, you have to go down to the third level to platform 42 direction St Rémy-les-Chevreuse /  Orly airport. Get off at Antony and take the Orlyval.