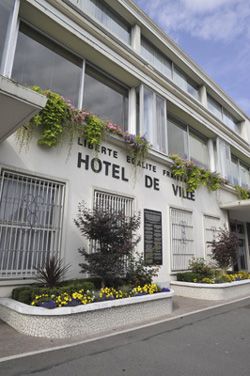 Close to Roissy and Le Bourget airports, the town of Blanc-Mesnil harmoniously blends modernity and heritage signed, among others, by Lurçat.
Blanc-Mesnil comes from the latin word "mansionile" a small village and "blauntch" white, referring to the color of the houses built out of limestone. It is customary to speak of Blanc Mesnil as an ideal place for an entrepreneur to set up business there as it is located on the outskirts of Paris Le Bourget airport, close to Roissy-Charles de Gaulle international airport and very accessible by A1 and A3, with an excellent logistic hub.
It is not very common to talk about its architectural and artistic heritage but that can, nevertheless, be of interest to the tourist. In 1938, architects Lurçat and Michaut drew up the plans for the current city hall. Interrupted by World War II, it was not until 1964 that construction began. Developed at the time of the glory of the "Normandy", the building evokes a boat with its horizontal shape and whiteness. Decoration of the reception room was entrusted to the brother of the architect, Jean Lurçat. The hall shelters "Vin du Monde", a famous tapestry 4m45 x 3m20 in size.
The signature of the architect Lurçat
More than fifteen public equipment and accommodation facilities designed by the architect Lurçat saw the light in Blanc Mesnil. Thus, the architectural ensemble of the city "Victor Hugo" along with the schools Gorki and Joliot Curie and the Jean Bouin stadium give the neighborhood a homogeneous and harmonious visual identity. The sculptor, Françoise Catalaa, produced a monumental work for the "Place de la Libération" - "le Parcours à la Paix". Through its bronze arrow, three doors for peace and a memorial, it unites all worldly cultures. The symbols are engraved on the arrow. The translation of the word peace in old and modern words is on the doors. 
The "Forum culturel" is located on "Place de la Libération". Choreographer Merce Cunningham, composer John Cage, photographer William Klein and actor Pierre Arditi among others, produced here. Take a walk through the Jacques Duclos park with its twenty thousand trees of various species.
Finally, two remarkable religious buildings can be seen in Blanc Mesnil: Church Sacré-C½ur and church Saint-Charles.
Le Blanc Mesnil pratical information
In and around Le Blanc Mesnil
Many factory and workshop visits are held all year round in Seine Saint Denis. Do not miss the urban walking tour programs.