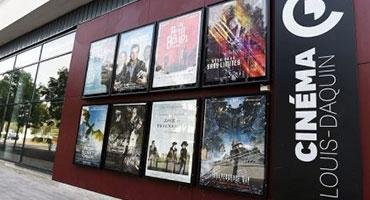 Cinema Louis Daquin (in the french town of Le Blanc-Mesnil) is a local alternative cinema which features films for all audiences. Classified as an Art house cinema, it is committed to mainstream films and also special events or highly acclaimed films from all countries in the original version with subtitles.
Cinema Louis Daquin, new cinema theatre, new address
Cinema Louis Daquin moved to this new address in 2013 and settled in a recently built building "République", place Gabriel Péri. It features three fully equipped cinema theatres with digital projections of a vast array of films for the general public.
Visually-impaired people must ask for individual headsets available to enjoy their film thanks to the audio description system. Cine-club, cine-discussion groups, films for all... cinema Daquin proposes a large programme accessible to all!