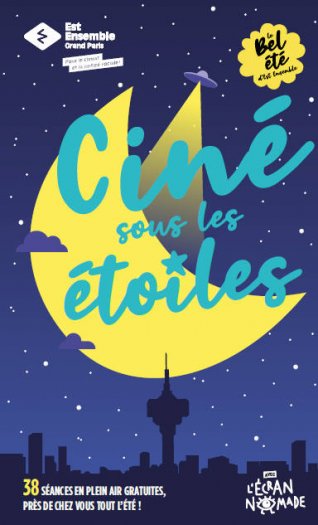 L'Écran Nomade replaces the Magic Cinéma (closed in June 2019) while a new public cinema is built in Bobigny, scheduled to open in 2025 - Alice Guy. In the meantime, L'Écran Nomade takes over.
L'Écran Nomade in Bobigny
While you're waiting for the new cinema to open, you can enjoy your film screenings in a variety of Bobigny locations. L'Écran Nomade offers film screenings every day of the week in a different venue.
Tuesday: cinema at either the MC93 or the Bibliothèque Elsa Triolet
Wednesday, Friday and Saturday at the Bourse du Travail (1 rue de la libération)
Sunday and Monday: cinema at the Conservatoire (2 place de la Libération)
Ticket prices: Full price - €4.50 / Reduced price - €3
Bobigny cinema also offers special events such as ciné-goûter and a special Halloween screening.
Ciné sous les étoiles this summer
From June 30 to September 1, 2023, as part of "Ciné sous les étoiles", enjoy open-air cinema in different towns (38 screenings planned - Free).
Five screenings will be held in Bobigny, from August 4 to 24, 2023, in different parts of the city.
The film program and times will be announced on the official Ecran Nomade cinema website.
2025, a new Alice Guy cinema in Bogigny
Alice Guy is the name of the new cinema due to open in Bobigny in 2025. She was cinema's first female director, with the release of La Fée aux choux in 1896, and 400 films to her credit, including A Fool and his money, one of the first to feature African-American actors.
The cinema will be set up in downtown Bobigny, where the old shopping center once stood, and will take over from the Magic Cinéma, which no longer exists. Nomade took over in 2019 in various locations, with a view to opening in 2025.
The Alice Guy cinema will feature six screens, including one with 3D technology. It will offer between 10 and 12 films a week, both mainstream and arthouse.
Managed by Est Ensemble.
History of the Magic Cinéma
Created in 1988 by the city of Bobigny, the Magic Cinéma had 2 screens with 285 and 160 seats. The Bobigny cinema was equipped to show films in 3D.
Throughout the year, the Magic Cinéma offered arthouse and vintage films, as well as documentaries and topical features. Some screenings are followed by meetings and debates with actors and directors. It also organizes film festivals such as Résonances and Bande(s) à part.
The cinema is part of the Cinéma 93 (in french).
Photo © Sylvie Biscioni