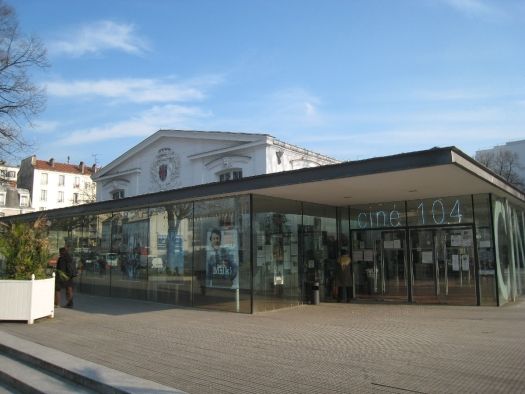 This cinema, opened about twenty years ago in Pantin and classified an ArtHouse cinema, offers a forever expanding programme taking into account what's new. Alongside some large budget films, it is the less cinema-type movie, the less consensual ones that are defended here. To keep this film spirit and to allow cinema goers to refine their sense of critic, the team of Ciné 104 work hard to make this venue a place for exchange and debate. Encounters are regularly organized, previews and discussions in the presence of filmmakers, and movies followed by snacks for kids.
Ciné 104 in Pantin: cinema, shows, art house
In 2003, renovation work was carried out to improve comfort and technological equipment. The cinema now opens onto the city and Stalingrad park. Once through the modern façade, a large bright lobby guides spectators to the three entirely renovated movie theatres (air-conditioned and accessible for people with reduced mobility, the main movie theatre is equipped with a sound loop for the hearing impaired) and can accommodate about 66, 154 and 224 people. The three halls are air conditioned and accessible to people with reduced mobility.
Ciné 104 has 3 labels: Research, Young audience, Programme
Short film Festival Ciné 104
Each year, the short film festival is held at this cinema. It offers quality arthouse movies with a wide choice to satisfy all audiences.
Bar-restaurant Ciné 104
Vertigo, a café restaurant inside Pantin cinema opened in November 2015 beneath the glass roof of the cinema. Light meals and drinks are available as well as brunch at week-ends.