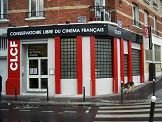 The free French cinema academy (CLCF), created in 1963 and supported by Marcel Carné, is considered as the oldest private school of cinematic arts in Europe and provides cinema and fiction training courses for assistant film directors, script writers and film editors. Since its creation, the CLCF has trained filmmakers from over 104 different countries. Tuition takes place over three years. However, students can join any of these classes, 1st, 2nd or 3rd year according to their level through a parallel admission process.
Studio Marcel Carné
The sign "Studio Marcel Carné" adjoining CLCF, lies over the entrance of a building dedicated to digital work, a peak at cinema from now to the past. Marcel Carné was a French filmmaker from the twentieth century. His tandem with the scriptwriter Jacques Prévert marked the beginning of an important moment in his career: "Quai des brumes" (1938) did well at the box office and was preceded by his cult film, "Les enfants du paradis" (1945).
To better respond to the high quality requirements imposed by the evolution of the film industry as well as the expansion of demand, CLCF invested, in 1993, in the studios "Marcel Carné" in the atmosphere of "Quai des Brumes, du Jour se lève" and "Hôtel du Nord" along canal de l'Ourcq. In 2003, with its admission to CILECT, it joined along with Femis the circle of major schools of cinema worldwide
Its doors are open daily to those who wish to acquire further information or simply to visit the school.