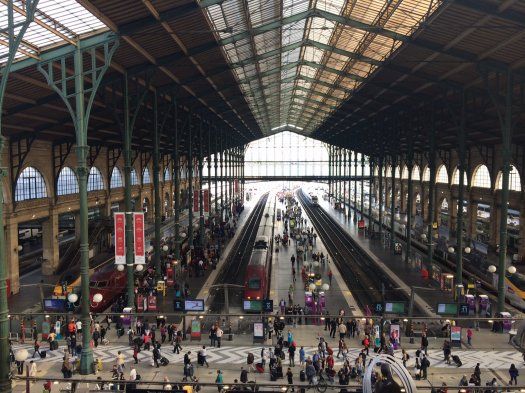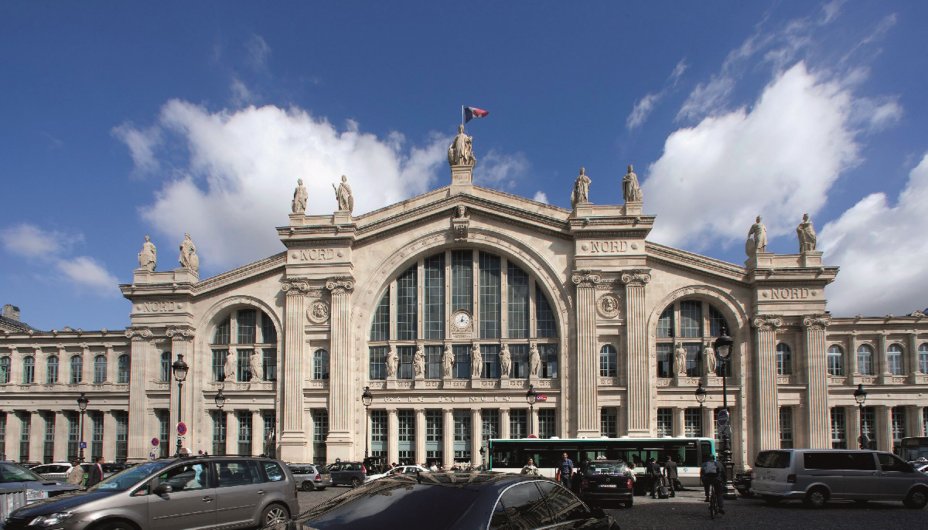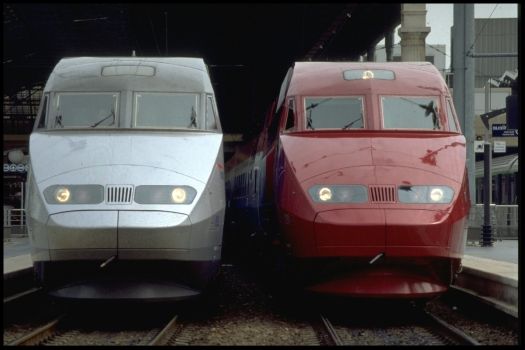 Gare du Nord – Paris train station, hotels, transport, accessibility
Opened since 1846, the Gare Paris-Nord, also called Gare du Nord, is a railway station for the French, North and neighbouring countries: Belgium, Great Britain, Germany… It is an important crossroads in Paris ; the Gare du Nord was an international transit station before serving regional traffic which has since developed strongly. It is the first European railway station with this dual function. The Gare du Nord station has been listed as an historic monument since January 15th 1975.
Gare du nord: TGV, Eurostar, Thalys, RER, tube… a starting point in Paris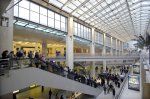 Different methods of transportation cross through the Gare du Nord station: high speed trains (TGV) and international trains (Eurostar, Thalys), suburban trains, RER, subway, bus, taxi and cycling (Vélib'). The connection between the Gare du Nord station and the Gare l'Est station is very close and it is actually faster to do the journey on foot (10 mn) rather than taking the subway.
Rent a hotel room near the Gare du Nord station and transport
Located in the North of Paris, Gare du Nord is a strategic point. There is a multiple transportation network which allows you to go wherever you like in Paris or in the Ile-de-France region. We propose a selection of hotels near the Gare du Nord station, but also accommodation along the lines of RER B transportation, RER D, and the various lines of the Parisian subway. We also propose a list of youth hostels.
RWC 2023 Paris / Olympics Games 2024
Practical information: Gare du Nord station in Paris
Tourism Information Point: Open everyday, located next to voies 7 & 9 (Thalys, Eurostar trains). Multilingual agents are here to provide you information between 8:30 a.m. and 6:30 p.m.. You can also find your information thanks to tactile boards located outside the office 24/24. You can buy your tickets for museums, exhibitions, concerts, transportation here.
Disabled access: lift
Left luggage storage: level -1, next to car rental companies, side exit « taxis »
Free Wifi
Paid parking:
Parking near Gare Paris Nord :
- IndigoNeo - rue Ambroise Paré et rue des Petits Hôtels
- Parking Abbeville - 5 rue d'Abbeville
- Parking Stalingrad - 7 boulevard de la Chapelle (a few minutes walk to the Gare du Nord station)
- Parking de la Goutte d'Or à Paris 18ème : 10-12 rue de la Goutte d'Or
What are the different transport levels in the Gare du Nord station?
Level +1: Eurostar Terminal
Level 0: exit, bus, taxis / Trains / Thalys + lines H and K (Transilien - suburban trains)
Level -1: for different correspondance, ticket purchase, car rental
Level -2: ticket purchase and correspondance for the RER, subway line 2 / line 4 / line 5

RER E: Direction Chelles-Gournay-Tounan / Haussmann Saint-Lazare
Subway - line 4: Porte d'Orléans - Porte de Clignancourt
Subway - line 5: Place d'Italie - Bobigny-Picasso (Philharmonie, La Villette)

RER D / RER B (Please purchase your RER transport ticket)
Subway - line 2: Nation - Porte Dauphine (Note: you must cross through the ticket gates and walk along the corridors on level -2 to get to the interconnecting lines).
Level -3: departure RER B and RER D (platform 41/42/43/44)

RER D:
Direction Orry-la-Ville/Creil: voie 41 (Stade de France)
Direction Melun/Malesherbes: voie 44

RER B :
Direction Aéroport CDG/Mitry-Claye: voie 43 (Plaine Stade de France, Airport Roissy CDG, Le Bourget and Paris Nord Villepinte park)
Direction Robinson/Saint-Rémy-lès-Chevreuses: voie 42 (Airport Orly: St Rémy les Chevreuses B4 - stop at Antony and take Orlyval)
How do I get to the Le Bourget and Villepinte exhibition centers from the Gare du Nord?
To get to the Le Bourget exhibition center, take the RER B train in the direction of Aéroport or Mitry-Claye and get off at Le Bourget station, then take the 350 bus (RATP) - this same bus can also take you to CDG airport, which is its terminal.
To go to the Paris Nord Villepinte exhibition center, take the RER B towards CDG airport only and get off at the Parc des expositions station. You will arrive in front of the park.
How to get to the Stade de France from the Gare du Nord?
RER D - direction Orry la Ville/Creil - takes you to the "Stade de France" station - walk about 15 minutes (signposted). This is the fastest way in case of traffic jam.
RER B - direction Aéroport CDG/Mitry-Claye - drops you off at the station "La Plaine Stade de France" - walk and follow the signs (about 10/15 minutes).
Bus RATP 302 direction La Courneuve from the bus station level +1 (longer in case of problem on the RER line), get off at La Plaine Stade de France.
How to get from Gare du Nord to Charles de Gaulle airport ?
To go to Charles de Gaulle airport from Gare du Nord you have to get off at – level 3 and take the RER B towards Aéroport CDG which is the terminus.
In case of major disruptions on the RER, take the bus n° 38 to Porte de la Chapelle and then the bus n°350 to CDG airport.
Gare du Nord to the Saint-Ouen flea market ? which metro ?
To get to the Paris St Ouen Flea Market from the Gare du Nord we advise you to take the metro line 4 direction "Porte de Clignancourt" (your terminus) ! Exit at Porte de Clignancourt, go under the bridge and you will see the entrance of the different flea markets in the near distance.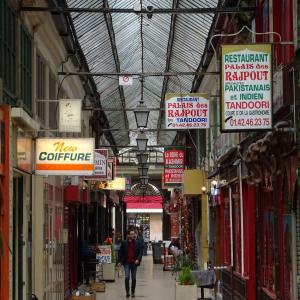 A trip around indian culture in Paris
Saturday 7th October 2023 (and 4 other dates)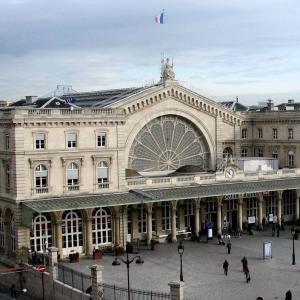 Paris Nord station and the 2024 Olympics - Work
Between now and the Paris 2024 Olympic Games, the Gare du Nord will be undergoing work to offer more space and more services. Travelers to Brussels will have a lounge area with a dedicated waiting area. An entire floor will be dedicated to Eurostar passengers.
Work began in 2022 and will be spread over several years. On certain evenings and weekends, the RER B and D lines will be closed (substitute buses will be provided, but travel time will be increased). Schedules and closure days are indicated on the official website "transilien.com".
In addition to the work in the station, the renovation of the forecourt to install the bus station (buses) and the creation of a bicycle parking area with 1,186 spaces will begin at the beginning of 2023, to be put into service during 2024.