Gare du Nord – Paris train station, hotels, transport, accessibility
Opened since 1846 the "Gare Paris-Nord", also called "Gare du Nord" is a railway station for the French, North and neighbouring countries: Belgium, Great Britain, Germany… It is an important crossroads in Paris ; the Gare du Nord was an international transit station before serving regional traffic which has since developed strongly. It is the first European railway station with this dual function. The Gare du Nord station has been listed as an historic monument since January 15th 1975.
Gare du nord: TGV, Eurostar, Thalys, RER, tube… a starting point at Paris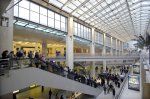 Different methods of transport cross through the gare du Nord station: high speed trains (TGV) and international trains (Eurostar, Thalys), suburban trains, RER, subway, bus, taxi and cycling (vélib'). The connection between the Gare du Nord station and the Gare l'Est station is very close and it is actually faster to do the journey on foot (5 mn) rather than to take the subway.
Rent a hotel room near the Gare du Nord station and transport
Located in the north of Paris, Gare du Nord is a strategic point. There is a multiple transport network which allows you to go wherever you like in Paris or in Ile-de-France. We propose a selection of hotels near the Gare du Nord station, but also accommodation along the lines of RER B, RER D, and the various lines of the Parisian subway. We also propose a list of youth hostels.
Practical information Gare du Nord station in Paris
Disabled access: lift
luggage lockers: level -1, next to car rental companies, side exit « taxis »
Wifi
Paid parking:
- Vinci Park - rue de Maubeuge et rue de Compiègne
- Parking Abbeville - 5 rue d'Abbeville
- Parking Stalingrad - 7 boulevard de la Chapelle (a few minutes walk to the Gare du Nord station)
- Parking de la Goutte d'Or à Paris 18ème : 10-12 rue de la Goutte d'Or
What are the different transport levels in the Gare du Nord station?
Level +1 : bus and parvis
Level 0: exit, bus, taxis / Trains / Eurostar / Thalys + lines H et K (Transilien - suburban trains)
Level -1: for different correspondence, ticket purchase
Level -2: ticket purchase and correspondence for the RER, subway line 2/ line 4/ line 5

RER E: Direction Chelles-Gournay-Tounan / Haussmann Saint-Lazare
metro line 4: Porte d'Orléans - Porte de Clignancourt
metro line 5: Place d'Italie - Bobigny-Picasso (Philharmonie, La Villette)

RER D / RER B / metro line 2 (Please purchase your RER transport ticket)
Metro line 2: Nation - Porte Dauphine (Note : you must cross through the ticket gates and walk along the corridors on level -2 to get to the interconnecting lines).
Level -3: departure RER B and RER D (platform 41/42/43/44)

RER D:
Direction Orry-la-Ville/ Creil : voie 41 (Stade de France)
Direction Melun/Malesherbes : voie 44

RER B :
Direction Aéroport CDG/Mitry-Claye : voie 43 (Airport Roissy CDG, Le Bourget and Villepinte park)
Direction Robinson/Saint-Rémy-lès-Chevreuses : voie 42 (Airport Orly : St Rémy les Chevreuses B4 - stop at Antony and take Orlyval)