When you a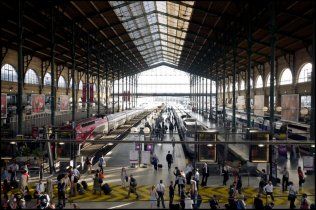 rrive at Gare de Paris Nord, you can leave your suitcases and bags in the luggage storage located on the ground floor.
To leave your luggages at the station, you must take the « Taxi » sign exit, in direction of rue de Maubeuge (close to Quai 3) on level 0. Just before exiting the station, take the lift to go down to -1 on the lower ground floor-level N-1 (car rental and lost property office).
The Gare du Nord luggage storage is located close to car rental companies (Europcar, Avis etc). There are about one hundred lockers of all sizes (small, medium and large format). To be able to enter, you have to check in all your bags through the detection scanner mat and empty your pockets before going through the security gate.
Opening hours for the baggage lockers at Paris gare du Nord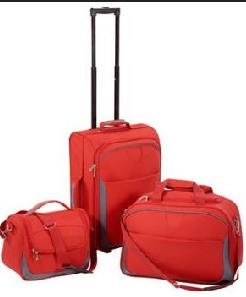 The luggage storage is open daily from 6:15 a.m. to 11:15 p.m., public holidays included.
The maximum rental rate and duration for a locker is 24 hours. A ticket or a code will be given to you. If you exceed the duration of 24 hours, your locker will be blocked until your arrival and you will be charged for the extra time to be paid at the ticket office (5¤/article per 24 hours –2019 rate, may be subject to modification).
Rates of the automatic locker
The smaller locker costs 5,50 ¤, the medium 7,50¤ and the large one costs 9,50 ¤ (for 24 hours) – the rates may be subject to change. If you lose your ticket or the code you have to pay the surcharge.
It is better to have small change with you or you can find automatic currency change machines onsite to allow you to change your bills (into euro) for coins. Only the larger lockers are equipped with credit card payment.
It is strictly forbidden to put dangerous products or weapons, food, etc. in the lockers, only suitcases, bags, and parcels are accepted. No deposit of valuable goods (which must remain under your responsibility).
Size of the baggage lockers at Paris - Gare du Nord
Here are the dimensions of the lockers:
Small locker: Height: 43 cm / Width: 34 cm / Depth: 82 cm
Medium locker: Height: 59 cm / Width: 34 cm / Depth: 82 cm
Large locker: Height: 90 cm / Width: 51 cm / Depth: 82 cm
My stroller, suitcase does not fit in the locker, what can I do?
If your luggage does not fit into the locker, it cannot be left at the Gare du Nord. You can contact other companies outside the station to take care of your luggage and strollers…, etc.
Stasher
Active in more than 200 cities worldwide, Stasher is a startup offering affordable luggage storage near Gare du Nord, without size restrictions. Stasher connects travelers with a network of local businesses that can store your bags for a few hours or a few days. Booking can be made easily online, and each item you store with them is insured for up to ¤1000. Simply search for a convenient location (StashPoint), book online and drop off your bag!"
Nannybag luggage storage
Traders, restaurants, hotels offer to keep your luggage. Indicate a day and a time slot, Nannybag will give you the address and rates to store your bag. Nannybag is an international and collaborative network of baggage lockers available in more than 250 cities including Paris. The Parisian start-up offers travellers the opportunity to leave their luggage with Nannies (relay points). You can leave your luggage for a few hours or several days. The 2019 rates are 6¤ for 24 hours and 4¤ for each additional day. Each piece of luggage is insured. Book with a few clicks on the Nannybag application or website, and drop off your luggage in complete confidence in the selected secure location.
Urban locker: City-Locker
9 rue des deux gares - 75010 Paris - near Gare du Nord.
Automatic lockers open from 8 a.m. to 10 p.m. Reservations can be done via the website or onsite via the ticket terminals.
Holibag
Shop keepers, restaurants, hotels nearby can offer to mind your luggage. Indicate the day and time; you will be given the address and rates.