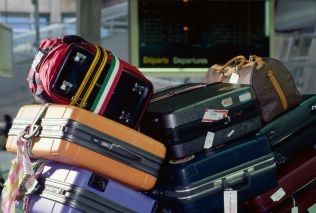 Are you travelling or transiting through CDG? Here are some tips for your luggage when you are travelling via Roissy Charles-de-Gaulle international airport. How to prepare your luggage well? Where to find left luggage service during your transit at CDG airport? How to send your personal belongings from one airport to another? Where to claim and seek advice for your lost luggage at the airport?
Preparing your luggage
Before packing your suitcase, do not forget to check everything concerning your entire luggage: checked-in luggage, and cabin suitcase - weight, size, authorized content, security, etc.…
Prohibited items in checked luggage and cabin
Verify that your luggage does not contain any of these prohibited items. 4 types of objects are not allowed on the plane, neither in checked luggage nor hand luggage: inflammable materials, explosives, chemicals products and self-defense objects such as tear gas type.  For a detailed list of prohibited items, consult the list..
Liquid transportation is subject to aviation regulations. It is recommended to put all liquid products (products in liquid, gel, cream, paste and aerosol spray) in checked luggage. If you have to keep these types of products with you, some rules must be respected: liquids product in cabin must not exceed 100 ml and must be transported in a transparent closed bag of 1l maximum – for example a freezer bag. 1 bag per passenger.
Food for small children and baby food are exempt from above restrictions if they are present in the aircraft. Also allowed is prescribed medication, liquid medicines and cream (with just the necessary limited dosage on board for the duration of the trip). These products must be presented separately at aviation control.
Size and weight of your baggage for checked-luggage and cabin
To know the maximum dimensions and weight of cabin or checked-luggage, check with the airline company about baggage allowance. Weigh your luggage to avoid paying for excess luggage.
Be careful to take precautionary measures if your trip includes domestic and international flights with different companies: the weight of suitcases and their size can vary from one Airline Company to another. It is generally 20kg maximum for a checked-luggage, with a small tolerance about 2 kg excess. Some companies tolerate one more object (strollers, crutches, photo-cameras, etc.) in addition to the carry-on bag if the total does not exceed 12 or 18 kg according to the company's rules
Luggage Services Paris Roissy CDG airport
Protect your baggage: Roissy airport additional services
For better protection you can have your luggage covered with plastic at the airport. It will avoid and minimize accidental damages and opening during your trip or transit. This service is operated by Safe Bag and they also propose  baggage insurance. 
Send your luggage from Roissy airport
You can send your luggage or excess luggage from one airport to another or to your home. "Bagages du Monde" proposes this service and for your pets also.
Left luggage service at CDG terminal
Lockers, left-luggage service, left luggage storage are available at Roissy airport. Want to enjoy your stopover for visiting Paris or shopping at the commercial center Aéroville without your luggage? Leave all your bags in a locker where they will be safely stored. You will find these luggage services in all the terminals of the Paris Charles-de-Gaulle International airport. You can also leave your bags at the left luggage service if you opt for a hotel close to CDG.
Baggages du monde: luggage service at CDG airport
You will find Bagages du Monde inside terminal 2 Paris-Charles de Gaulle international airport , close to the TGV-RER train station  level 4 in front of Sheraton Paris Airport hotel. Bagages du Monde proposes three services: secured left luggage office, baggage transfers and excess baggage, sales department for baggage and accessories. Open every day from 6: a.m. to 9 :30 p.m. Phone number for information :  +33 1 34 38 58 90.
What to do in case of flight delay or lost luggage at CDG?
Every registered luggage or object is under the responsibility of the airline company. If you have lost your luggage or any other registered objects between check-in and check-out of your flight journey, please contact directly the airport airline service you checked-in with. In case of flight delay or non-delivery of your luggage, contact the airline company.
If you lose your personal belongings inside CDG airport before you check-in or after you check-out with your luggage, go to the lost and found office in terminals 1 and 3 at Paris-CDG airport in halls 5-6 close to the entrance of CDGVAL. Opening hours for lost property office at CDG: 8:30 a.m. - noon – 1 p.m.- 3 p.m. from Monday to Friday. Fill in the lost items form.
Any unclaimed items are sent to the Lost property department of the Paris Police (36 Rue des morillons, Paris 15) 15 days after being found.