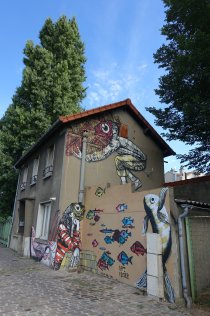 Seine-Saint-Denis has many urban street artists, frescoes and coloured walls. From the street to street-art galleries, discover the places dedicated to street-art collections in the North East of Paris.
For several years now, many events have been organized to gather street artists around street- art collective artworks. With the initiative of collective groups, towns or associations, these festivals highlight street art; the opportunity to spotlight urban street art in all its forms.
We can find a number of festivals that return annually and rythm the landscape of Seine-Saint-Denis: Ourcq Living Colours each year takes over the banks of Canal de l'Ourcq in the 19th district of Paris.
Street-art walking tour
Paris, and notably areas in the North East (18, 19 et 20th districts) – Belleville, Ménilmontant, Oberkampf, Ourcq/Laumière and the outskirts of Bassin de La Villette and Canal de l'Ourcq – are renowned spots for amateurs of urban art. Many names from the world of street-art are from Greater Paris, they have made a name for themselves in urban art.
Several cities in Seine-Saint-Denis have become a major playground for street-art culture: The Lilas (L'Atlas was here), Montreuil, Saint-Ouen, Saint-Denis and Bagnolet.
You can discover Paris and Seine Saint Denis 93 via the street art trail alone or accompanied.
Enthusiastic guides, themselves street-artists or urban art amateurs who just love Paris, will be eager to show you the different neighbourhoods or to see street-art in Paris and in Seine-Saint-Denis.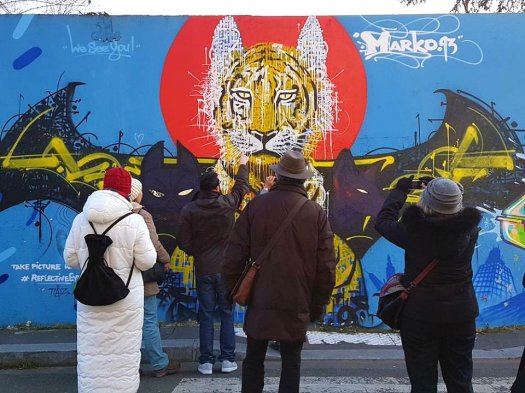 Marko 93 - street art walking tour in Paris 19th
You want more street art? Paris's area has loads to offer! Check out street art in La Defense.