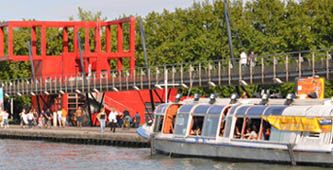 Take a trip on the Canal de l'Ourcq in Paris: Welcome on board our river shuttles for 1 or 2 euros!
The river shuttles are back on the Ourcq canal  this summer with the festival Eté du Canal. Hop on our boat shuttles and let them take you to our different events: floating concerts, balls, play, water sports etc..
Every weekend from July 9th to August 14th 2022, hop on our river shuttles for 1¤ per trip on Saturdays, 2¤ per trip on Sundays with a departure every 40 minutes.
These river shuttles will take you all summer long to dance balls, water parks, barges, shows and other festive entertainments during the Eté du Canal – Summer on the Canal festival.
An original view of Paris as seen from a boat
Once on board and carried along by the current, you will experience the canal differently, drifting slowly along while enjoying another side of Paris: "la Rotonde" by Nicolas Ledoux at Bassin de la Villette, the architecture of Parc de la Villette, the site of the Grands-Moulins in Pantin, the Centre National de la Danse – national Dance Centre, the East-European TGV Technicentre or the departemental parc de la Bergère in Bobigny. Get off when you want at the different stops to enjoy a party, concert and other dances or simply take in the view that passes in front of your eyes from the boat.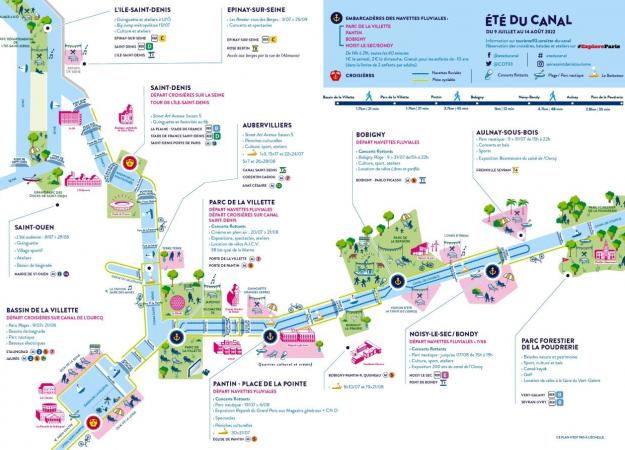 Practical information
Ticket rates for summer shuttles: 1¤ on Saturdays and 2¤ on Sundays. The trip is free for children under 10 accompanied by an adult, two children per adult max.
Paris Bassin de la Villette to Bobigny - midday to 7:30 pm every 40 minutes
Bobigny to Paris Bassin de la Villette - 1 pm to 8:30 pm every 40 minutes
River shuttles during the Eté du Canal - Festival de l'Ourcq will sail only on Saturdays and Sundays in July and August. There are no Eté du Canal boats at this special price during the week (Monday to Friday) and off summer season on the same routes.
Good tips!
To avoid the rush, take the shuttles between midday and 3pm for a guaranteed quiet moment.
List and addresses of correspondence stops:
See also: