Opt for a cruise to see the most of Parisian canals by boat. With our cruises and those organized by our partners Paris Canals and Canauxrama you have plenty of cruises to choose from: cultural cruises, festive cruises, street art cruises... by day or by night, a cruise for two or with your family… the choice is yours! During our cruises you'll be able to relax with a drink while enjoying the view and listening to a concert on a barge as you float upon the canal de l'Ourcq. All summer long, on the canal from la Villette to Noisy, you can have plenty of fun on our cruises!
Food cruises

This summer you can enjoying romantic cruises on the Seine as you float in the city of lights you'll be able to have pre-diner drinks along with a nice charcuterie board with our Guinguette cruises. On July 24th and 31th you'll also be able to take part into a cruise alongside the Canal de l'Ourcq, this cruise will drop you off in La Villette with a nice picnic basket right on time for the movies at the outdoor movie theater of La Villette.
Discovery cruise

This summer, cruises will embark history, architecture and heritage enthusiasts. A guaranteed fun-filled moment, opened to dreamers who want to know everything about the Parisian canals and and see Paris in a new light. You'll enjoy our themed cruises: cinema, theater, history... to each their own.
Party cruises
Looking for a place to party, have a drink and spend time with your friends? Festive cruises on the Ourcq Paris Canal are just the thing for you! At sundown, boats are turned into concert halls with musicians or DJ sets, cinemas, world food fairs, wine cellars. Check our page about the Parisian nightlife to find other places to go.
Street-art cruise in Paris

Discover another Paris canal, canal Saint-Denis, by travelling up Street-art Avenue on a boat. Street artists take over the canal and participate in this open air art gallery. Graffiti, murals, collages, stencil printing can be seen  from Paris to the Stade de France, you can admire all these works during one of our guided cruises.
A small cruise on the Marne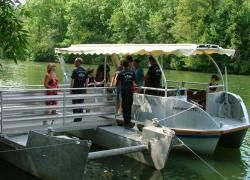 The "Passeurs de Marne" are back again this summer to familiarise you with this not so well known river. The river Marne  goes over the Val-de-Marne department and crosses the south of the Seine-Saint-Denis department. The Passeurs de Marne provide affordable short cruises between Gournay-sur-Marne and Noisy-le-Grand. Discover the green banks of this river with its fauna and flora. A variety of themed cruises and excursions are organised throughout the summer.