Opt for a cruise to see the most of the Paris canals by boat. A cultural cruise, an apero or electro music cruise, a festive or food cruise, a boat trip by day or at night, a cruise for two or with family… Our original cruises give the opportunity of dining (lunch, dinner), listening to a concert on a barge while floating upon the canal de l'Ourcq. All summer long, on the canal from la Villette to Noisy, there is fun to be had on these cruises!
Food cruise Festive cruise Day cruise Discovery cruise
Every Saturday at midday during the summer, enjoy a brunch made by the team from "Marmites Volantes" on our food cruise for two hours on the canal de l'Ourcq!
They will propose a menu consisting of several home-made dishes made with fresh, organic and local produce. Book fast. There might not be enough to go round !
 
Cruise up to parc de la Poudrerie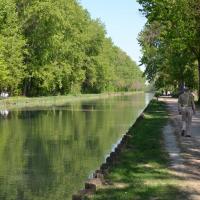 Take your bike with you on a boat and enjoy a guided cruise between Paris and parc de la Poudrerie! Come and discover the history of the canal de l'Ourcq right up to this vast forest park, built on the remains of the former imperial powder factory and offering many summer activities. Sail up there on the guided cruise and come back on your bike on the designated cycling tracks. Or do the opposite! leave from Sevran by boat to Paris and come back by bike from bassin de la Villette. Every Sunday at 10 a.m. from Bassin de la Villette and at 1.30pm from Parc de la Poudrerie. Rate 15¤ / Child 13¤. Book one of the cruises.

Every weekend during the summer, take a boat from Paris for an unforgettable food cruise. Brunch, lunch, aperitif, dinner. Different sailings are scheduled at different times Saturdays and Sundays. Share a moment of conviviality around a drink, a meal, at one of the beer brewing workshops or during a cookery class on world cuisine.

This summer, cruises will embark lovers of history, architecture and heritage. A guaranteed fun-filled moment, the cruises invite all those interested, whether big or small, to rewrite the history of the Paris canals. You will see the canal de l'Ourcq as you have never done so before… Cinema, lasting developemnt, humour… You'll enjoy our theme cruises.
Looking for a different way to relax and enjoy a drink with friends? The festive cruises on the Ourcq Paris Canal are just the thing for you. At sundown, the boats are transformed into concert halls, cinemas, world food fairs or wine cellars. Concerts, fashion, food…
Street-art cruise in Paris

Discover another Paris canal, canal Saint-Denis, by travelling up Street-art Avenue by boat. This summer, street artists will take over the canal and will produce an open air art gallery. Graffiti, murals, collages, stencil printing can be admired from Paris to the Stade de France while at the same time enjoying a guided cruise.
Day cruises : the countryside charm of the canal de l'Ourcq
You like to explore? Embark on a guided cruise on the boat Pierre-Simon Girard to discover the canal de l'Ourcq from the urbanised part in Paris to the more bucolic spaces in Seine-Saint-Denis and Seine-et-Marne. You will go through locks, see an elevator factory and the best part : you will be drawn along by horse part of the way, just like the former waterway operators used to do. You can also do this cruise without the horse-drawn part.
A small cruise on the Marne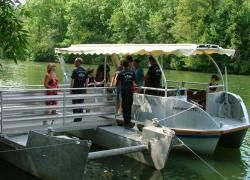 The "Passeurs de Marne" are back again this summer to familiarise you with this not so well known river. The river Marne crosses south of the department Seine-Saint-Denis. The Passeurs de Marne are proposing a very affordable small cruise between Gournay-sur-Marne and Noisy-le-Grand.
Discover the green banks of this river with its little known fauna and flora. A variety of themed cruises and excursions are organised throughout in summer.