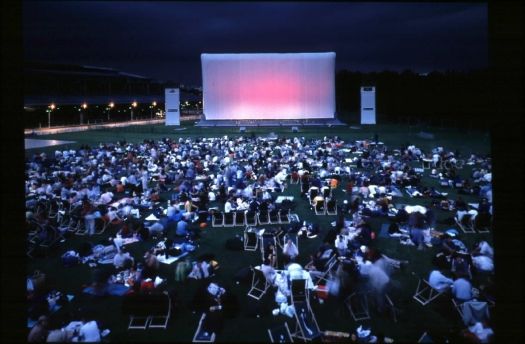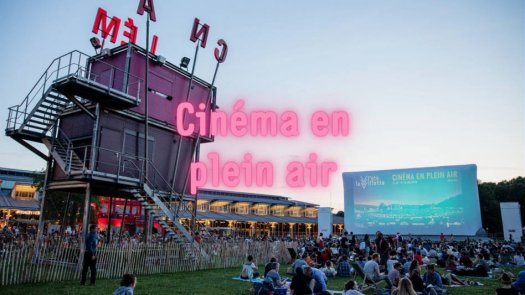 Open Air Cinema at Paris La Villette is a not-to-be-missed summer evening event in Paris! Every summer, for more than 20 years, the prairie du triangle in the Parc de la Villette becomes the largest open air movie theater in Paris with free entry. See you from July 19 to August 20, 2023 for a wide selection of films to watch on the big screen and outdoors.with free entry. See you from July 19 to August 20, 2023 for a wide selection of films to watch on the big screen and outdoors.
2023 outdoor movie theater
The 2023 edition brought together a selection of films around the theme "team spirit" in the run-up to the Olympic Games in Paris.
Access methods:
Admission within the limits of available places (no registration required)
Opening of the lawn at 8 p.m.
Paid deckchair (to be collected on site). As a precaution, come with your own blankets and deckchairs.
An Open Air movie in the heart of Paris
Now emblematic, this free festival is an opportunity for the public to discover or rediscover cinema masterpieces. Come with family, friends, neighbours, to laugh, to marvel, to tremble or to travel. With Europe's the largest inflatable screen (544m²), the 20,000 m² of lawn can fit about 150,000 movie fans over one month to watch movies on a large outdoor screen. The specificity of the La Villette open-air cinema is also due to the richness and diversity of its programming.
Terms of access:
Free entry subject to availability (no registration)
Access to the lawn at 8pm
Deckchairs to be collected on site (paid). But we recommend you bring yours.
Cruise before the movie
Come to the Cinema by boat! The summer festival Été du Canal works once again hand in hand with La Villette and offers you to hop on a cruise of the Été du Canal to go to your movie screening on the lawn of La Villette. You will then enjoy your picnic basket on the lawn of the Park while watching your movie.
Cruise and picnic basket (French)
Guided walks before the movie
A guided walk along the Ourcq canal is offered every day before the movie.
Program of the outdoor cinema - 2023
Screenings in July
Wednesday July 19: Miss Peregrine's Home for Peculiar Children - Tim Burton - 2016 - 2h03 (Warning: some scenes may be disturbing for young audiences).
Don't miss the Tim Burton exhibition at La Villette!
Thursday July 20: Parasite - Bong Joon Ho - 2019 - 2h12 (Warning: some scenes may offend young viewers).
Friday, July 21: Le Repas dominical - Céline Devaux - 2015 - 14 min and En corps - Cédric Klapisch - 2022 - 1h58
Saturday, July 22: Les Trois brigands - Hayo Freitag - 2007 - 1h19
Sunday, July 23: Some Like It Hot - Billy Wilder - 1959 - 1h56
Wednesday, July 26: Antoinette dans les Cévennes - Caroline Vignal - 2020 - 1h37
Thursday, July 27: Karaoke d'Arte
Friday, July 28: Tuesday - Charlotte Wells - 2015 - 11 min and First cow - Kelly Reichardt - 2021 - 2h01
Saturday July 29: Les Misérables - Ladj Ly - 2019 - 1h44 (Warning: film likely to impress a very young audience).
Sunday July 30: C'est arrivé près de chez vous - Remy Belvaux, André Bonzel and Benoît Poelvoorde - 1992 - 1h32 - Forbidden for children under 12.
Screening in august:
Wednesday, August 2: Drunk - Thomas Vinterberg - 2021 - 1h57
Thursday, August 3: Hors normes - Eric Toledano, Olivier Nakache - 2019 - 1h53
Friday, August 4: Fils du loup - Lola Quivoron - 2015 - 23 min and Dunkerque - Christopher Nolan - 2017 - 1h46
Saturday, August 5: The Beguiled - Sofia Coppola - 2017 - 1h33
Sunday, August 6: The Asphalt Jungle - John Huston - 1950 - 1h48
Wednesday, August 9: La Petite bande - Pierre Salavadori - 2022 - 1h48
Thursday, August 10: Family Values - Hirokazu Kore-Eda - 2018 - 2h01
Friday, August 11: La Marche de Paris à Brest - Vincent le Port - 2021 - 7 min and Le Mans 66 - James Mangold - 2019 - 2h33
Saturday, August 12: Top Gun - Tony Scott - 1986 - 1h51
Sunday August 13: The Magnificent Seven - John Sturges - 1961 - 2h09
Wednesday August 16: Polisse - Maiwen - 2011 - 2h07 (2013) (Warning: This film contains scenes that may be difficult for young audiences).
Thursday, August 17: Adolescentes - Sébastien Lifshitz - 2020 - 2h16
Friday August 18: Mort aux codes - Léopold Legrand - 2018 - 14 min and Public Enemies - Michael Mann - 2009 - 2h20
Saturday, August 19: Ocean's eleven - Steven Soderbergh - 2002 - 1h57 (2013)
Sunday, August 20: West Side Story - Steven Spielberg - 2021 - 2h36
Open air cinema: practical information
Program may be subject to change. For more information: visit La Villette website.
Dates and movie time schedule
Film screening begins at dusk. Open air movies: Wednesday to Sunday. All the films presented at La Villette are in Original Version with French subtitles. You can access the lawn starting 8pm.
Opt for a cruise on the Canal de l'Ourcq, and come back in time to enjoy an open air movie.
Enjoy an even more original experience this summer with the Air Museum's Tarmac Cinema on Saturdays in July and August.
If you can't get enough of movies go to a classic movie screening at the CGR Lilas.