Summer is here! Days are longer and temperature are higher, its the perfect moment to enjoy outdoor concerts and festivals. Concerts and music festivals are organized all year long around all genres of music. Dozens of artists and new talents will be performing, for free or at a very affordable price, on summer stages in Paris or in the gardens of Paris, in Pantin, at the Glazart venue or during floating concerts and cruises during the "Été du Canal" summer festival.
Music cruises along Canal de l'Ourcq
Enjoy festive summer music cruises on the Canal de l'Ourcq from Bassin de La Villette. Bluegrass, electronic music, world music, etc. an eclectic music programme for an eventful summer filled with good memories.
Festival Rhizomes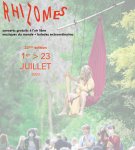 The Festival Rhizomes 2023 offers free outdoor concerts in several green spaces of the 18th district of Paris. Their rich and varied programme will appeal to music lovers who are looking forward to discovering new artists and genres.
Summer concerts Pantin
In the north of Paris on Canal de l'Ourcq, the rich programme of free concerts in Pantin will have you dancing to different beats. From reggae to jazz, pop, rock or even country no genre will be left off. This year you'll be able to discover and enjoy world music with several African and Latino American sounds from Brazil, Mexico, Mali, Rwanda and more.
Floating concerts
During the summer the festival Été du Canal organizes free floating concerts along the canal de l'Ourcq, this year you can assist to 7 floating concerts. Boats are turned into concert stages and musicians perform on them while rowing in the Canal. Standing on the docks the public can watch the performances of the artists who make musical stops (of about 30 minutes) at the Parc de la Villette, in Pantin, at Bobigny Plage in the Parc de la Bergère and in Noisy - Bondy. The public can also follow the whole show by bike. Here's this year's program:
Thursday the 22 of June 2023 : L'Académie des Jeunes Talents Philippe Jaroussky. In partnership with Alios.
9th July of 2023 : Festival Banlieues Bleues summer camp
15th of July 2023: Festival Métis with Thibaut Garcia(Guitarist) & Félicien Brut (accordionist)
23th of July 2023 : Sequenza 9.3 - 5050 Janis Joplin / Jimi Hendrix
29th or 30th of July 2023 : Q-Sounds Recording  - Zebrock