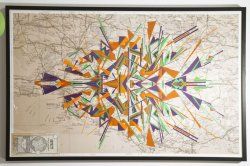 Graphic Designer, illustrator, painter and samouraï, Théo Lopez came cross the collective group 9th Concept very early in his career. That meeting led "TO", his artist name, to develop his creativity. With time, his painting became further refined, his artistic signature developed, and this led to his own personal creative growth. Driven by tribal influences, TO declines his totems and other abstractions in volume or flat, sometimes using ink and sometimes paint.
His curved lines, his bright colors, hold a dialogue, often symmetrically, drawing the observer into a kaleidoscopic spiral. A dreamy and mystical universe, freshly created, which allowed TO to make it his trademark.
Théo participated in the Aucwin street art outdoor gallery along Canal Saint-Denis in 2015.