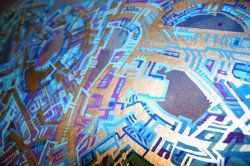 Eyone was very young when he discovered graffiti culture. Very quickly he opted for the marker, discreet for tagging, less dangerous. Today, it is still the same. Eyone is definitely marked by his marker, his tool of choice.
When he talks about his experience his eyes shine up: the yellow door of the Parisian metro, train lines, trains, exhilarating fear, a taste of risk, all this to reinforce his reputation, to be admired.
The great story of Eyone, left-handed, with his different names and numerous crew enthusiasts with whom he ventured, among those include TPK, Erol and Cristobal Diaz.