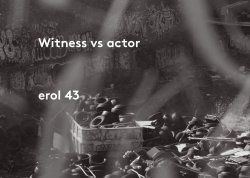 Erol 43 is, originally, a graffiti street artist. With the Paris crew UV TPK, he ventures into every remote and unsavory corner of the town to produce raw and powerful photos. Wandering around urban areas, he makes "portraits", of marginal and atypical characters.
EROL 43, is witness to city life and, through his photography, captures a certain spontaneity that shows an aspect of Parisian life, its outer edges and connections.
For the project "l'art ŕ l'Ourcq" at the Été du Canal festival in 2014,  he collaborated with his crew collective group TPK and Dize, Eyone, Cristobal Diaz and Frez.