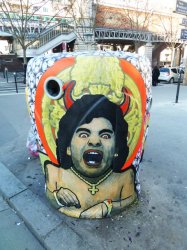 JBC is an artist known for his collage on urban street furniture. Often a reflection of a political expression to reveal the absurdity of the world that surrounds us, this artist's work depicts ordinary or famous characters in abstruse situations, a distorted reflection. Equally inspired by the tropical universe, his creations are alive with pagan religions, with icons, which echo his many trips to Latin America.
For JBC the street is a vast agora where everyone should be able to express themselves with all means available to him. For, beyond decorating walls and urban furniture in big cities, street art should be considered a genuine citizen's right.
JBC takes parts in many street-art events in the north-east of Paris. He notably participated in the graffiti festival in Aulnay in 2014 and in the street art Festival in Montreuil in 2015.