Jo di Bona is a French artist who lives in Paris and works at Neuilly-Plaisance in Seine-Saint-Denis. He made a portrait of Cosette Harcourt for urban artwork on occasion of Été du Canal festival 2018.
Jo di Bona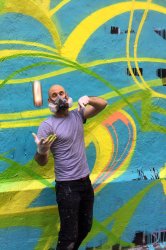 Inventor of the "pop graffiti" technique and the international street art emblem, Jo di Bona has a much asserted style, blending painting and collage, a detailed and thorough work. He discovered a passion for visual arts in 1990's which brought him to the world of graffiti art work, a discipline he abandoned but subsequently returned to via street art in 2013. His technique is well proven. Jo di Bona rips his canvasses so as to add forms and specific reliefs to them. He often compares music to plastic arts, making the analogy between the workshop of a painter and a recording studio where he speaks of melodies in term of colours. He paints his canvasses just like a composer adding notes on a score sheet to add depth and harmony to his work.
Today, his reputation is well established, he won first prize in the Graffiti de la Fondation EDF in 2014 and his performances and frescoes are known all the world over, in Europe and in particular, the United-States. And yet, he remains humble seeing himself as a tiny drop in the ocean of street art: however, his works have a great impact on the public as they are sold quickly on the urban art market.
Cosette Harcourt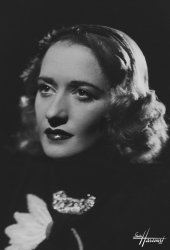 A glance at this artistic trail… Cosette Harcourt, icon and founder of the most famous photography studio in the world created in 1933, was suggested to the artist. This constraint allowed him to work on a mise en abyme, a sort of mirror image process. The portraits which he realises are generally based on photographs, or, as in this specific case, it is the strategic process of a portrait of a portrait photographer.
Cosette Harcourt is clearly recognizable, she exudes a strong personality and through this project I identified with her and fully integrated what she represents in my artworks. This female and feminist figure corresponds well to my vision and willingness to make committed paintings, to show equality between men and women, both in the world of art and in our society in general.
From a technical point of view, Jo di Bona starts off with a black and white photo which he lacerates to compose his painting and, using a graffiti method, he applies marked and contrasted colours with spray paints. This way, the black and white and colour contrasts are even more pronounced. Using light contrasts and the texture of black and white, characteristics of the Studio Harcourt, the works by Jo di Bona take on full meaning, they reinvent the photo cliché all the while paying tribute to Harcourt.
Technique : mix laceration technique, graffiti, painting, collage
Support : sculpted stone
More street art representations of Harcourt photos
Don't miss the works of the artists Alex aka Akhine & Neiiiz, Batsh, BK Foxx, Sêma Lao, Daniel Eime, the Movement, Romano, Marko 93...