Mouvement is a cultural collective group created in 2013, founded by three Street artists : Riks, Tiez, Romano.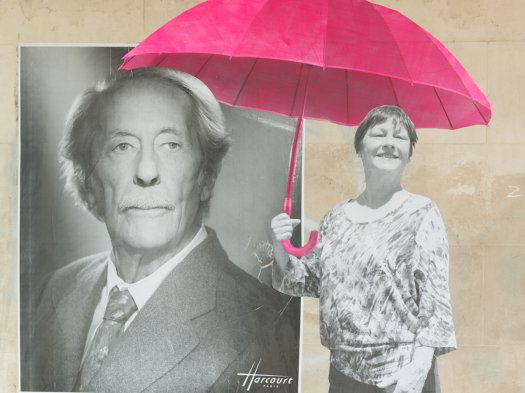 One of umbrellas by Le Mouvement in Paris © Arthur Crestani
The creativity of this collective group takes shape in the streets of Paris, where it expresses an artistic spirit coupled with the key values of sharing, living together and  social diversity. It is at Place Igor Stravinsky, a few steps from Centre Pompidou, that the artists created a work of art destined to make them well-known: Parapluies, representing different Parisian couples in everyday life, shown together under a coloured umbrella. This work combines realism and poetry capturing shared moments between Parisian couples, brought together because of their differences, united under an umbrella. These photographic collages are exhibited in the streets in order to create the link between the subjects shown and the passer by. Encouraged by their success, the members of this "Mouvement" are gaining in popularity and viewed more and more as professionals.
The Mouvement works voluntarily during the day in order to be able to discuss with an improvised public. Rigorous and precise, the artists have developed a savoir-faire in the technique of collage, which they multiply in the streets of Paris. At the image of these umbrellas under which people are gathered and reinvented, the Mouvement is not only composed of colours but is also composed of many artists' from all sectors (painters, graffiti artists, photographers, scenographers, videographers, plastic artists). Their initial project was considered illegal for a very long time, degrading the walls of the city. It is today recognized by the same institutions that originally denounced them, leaving thus these couples of strangers to symbolise the diversity and the poetry of daily life.  
Check street art works inspired of Harcourt photos by other artists: Alex aka Akhine & Nheiiiz, Batsh, BK Foxx, Daniel Eime, Sêma Lao, Romano, Marko 93, Jo di Bona...