BK Foxx is an American artist born in 1988. She lives and works in New York City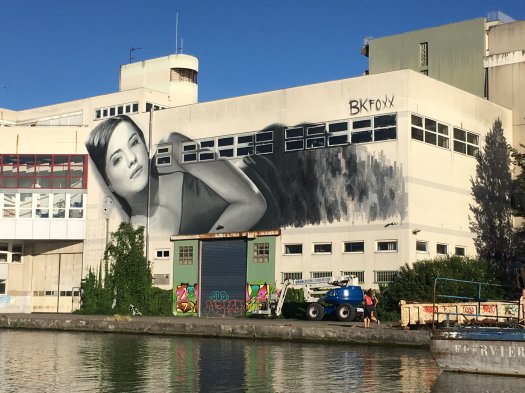 Marion - BK Foxx © Seine-Saint-Denis Tourism Board
BK Foxx is an artist whose work colours the streets of New York sending a message of precision and commitment. Autodidact, BK Foxx works on huge surfaces. Her talent has propelled her to the forefront of the contemporary New York stage. Sensitive to the animal cause and to environmental issues, she demonstrates her undeniable talent to perfectly incarnate hyper-realism. The attention that she gives to detail in her paintings make them faithful to the pictorial reality of the world, all the while emitting a speech of commitment, of a society struggling with environmental issues. The themes she affirms through her paintings are basically a reflection of her own aspirations: to emotionally move others, impact on their reality, make them aware of the realities that surround them. She likes to paint scenes from daily life, the imaginary dotted with cosmic motifs, objects for which she feels a sentimental or symbolic attachment, giving her universe an unparalleled vitality through a unique style of working, capable to give to reality an innovative powerful character.
Marion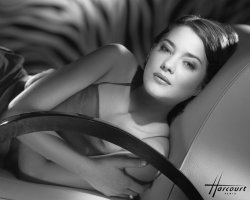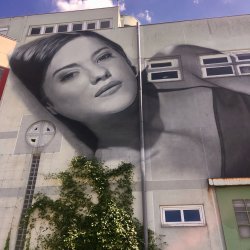 In admiration of the actress and her commitment to environmental causes which are precious to the artist, BK Foxx has chosen the portrait of Marion Cotillard. For the artist, the actress embodies the French chic and glamour as opposed to a more vulgar and trivial culture to which some celebrities tend to lean towards.
This monumental artwork is striking in the technical qualities used by this very young artist who worked without any preliminary benchmarks to realise this fresco, a portrait that is more authentic than the original portrait of the Studio Harcourt. It took BK Foxx 6 days to carry out this piece of art.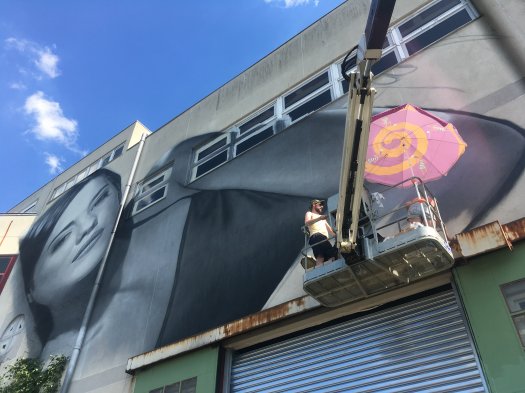 Marion - BK Foxx © Seine-Saint-Denis Tourisme
Location: Chemin de halage on the banks of Canal de l'Ourcq - Metro line 5 Exit Bobigny- Pantin Raymond Queneau
Dimensions: 20 x 15m
Other street art works of Harcourt pictures
Look at the works of Alex aka Akhine & Neiiiz, Batsh, Daniel Eime, Sêma Lao, the Movement, Romano, Marko 93, Jo di Bona...