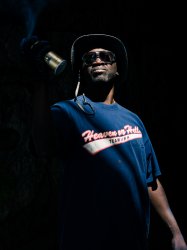 Batsh is a French artist born in 1975, he lives in Bondy and works in Paris.
Batsh has been practicing graffiti art since 1990, gradually integrating digital tools into his work. Inspired since his early teens by his passion for the New-York alternative scene, the birthplace of the Hip Hop culture, he attended hip hop performances in festivals such as Back To Planet Rock, Battle of the Years that proved to influence his process of creation. Autodidact known for his chiselled portraits, he skilfully combines both graffiti and portrait.
A committed artist, the majority of his work relays a message, linked to history from coloured people to anti-colonialism and anti-capitalism. He systematically expresses the desire and need for freedom for all. His black and white artworks that he signs with an energetic force, are both subtle and pleasantly subversive. Remaining loyal to street art as witnessed by the presentation of his numerous frescoes in the north-east of Paris and Seine-Saint-Denis, Batsh artworks can be seen now in galleries.
Humanity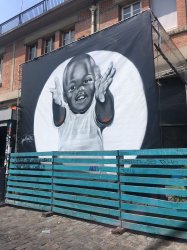 Inspired by the photography Issa Bébé Cadum Studio Harcourt, Batsh opens the artistic path at the Point Ephémère with this work. Made with spray paint, in a figurative style and highly realistic, it is all very characteristic of Batsh's work.
The site for this art work was not chosen lightly since this artistic creation is here to recall our sense of benevolence, of compassion towards others. Indeed, the hard reality for migrants wake the Canal Saint-Martin up each day and test our sense of humanity.
Regarde-moi (Look at me)
This artwork marks the end of the (p)Harcourt Street art path Eté du Canal. Inspired by the portrait of Aïssa Maïga, this Batsh fresco seems to question both locals and visitors in Seine-Saint Denis. The future Olympic territory (Seine-Saint-Denis and Paris will host the JO in 2024) and the richness of its cultural diversity, does not abolish the social and economic disparities that exist between its inhabitants.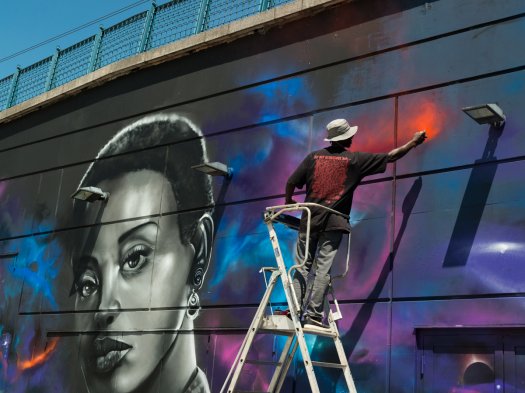 Localisation: Pont de Bondy
Size: 15 x 6m
More street art of the Harcourt studios
Don't miss the work of Jo di Bona, le Mouvement, Marko 93, Sêma Lao, BK Foxx, Daniel Eime, Romano and Alex aka Akhine & Nheiiiz...