Daniel Eime was born in 1986; he lives and works in Porto.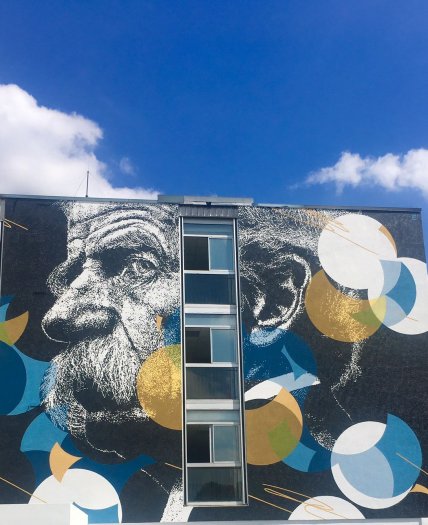 Daniel Eime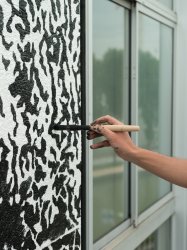 Daniel Eime has made a living from his artwork since 2011. His passion for arts was revealed when he was 16 years old and he made his first steps by experimenting street art,. Daniel Eime developed his own style by using stickers and posters that he incorporates in his artworks. His singular aesthetic trade mark is recognisable by his mastery knowledge of using stencils, Fin Dac has been, among others a big source of inspiration for him. This technique is represented in all his creations, giving them a both realistic and pop-style effect.
He uses large surfaces to represent his artwork: Playing between a figurative style composed of precise details thanks to his stencil technique, and an abstract style with coloured geometrical shapes. As an innovative international artist, he was part of several street art festivals around the world, exhibiting in groups or alone. This time he is back in Paris for the second time, exercising his talent over a large surface area.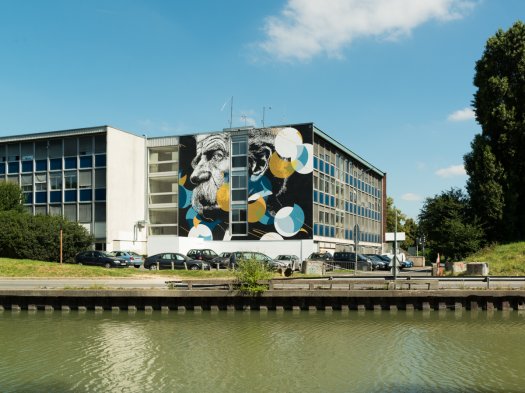 © Arthur Crestani
This art piece marks the tradition of the artist's work over the past few years but the artist believes that this work has reached a new dimension with these more abstract lines, colourful circular lines that form a geometric background.
The artist likes to choose portraits of people with striking enigmatic expressions. He strives, through his work, to light up these faces in a different way, revealing the marks of their existence echoing our own.
His work fits in perfectly with the Harcourt photography collection in the way the faces are treated in black and white, including the facial expressions of the faces chosen, both profound and mysterious.
Location: Cité administrative – Parc de la Bergère – Bobigny
Dimensions: 11 x 6 m
More Harcourt street art works
You'll also love discovering the works of Alex aka Akhine, Batsh, BK Foxx, Sêma Lao, the Movement, Romano, Marko 93, Jo Di Bona...