Sema Lao is a French artist born in 1987, she lives and works in Limoges.
Sêma Lao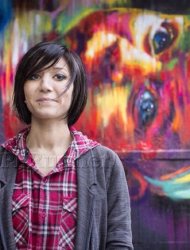 This artist began to paint when she was very young. In 2011, it was a revelation for her when she got a spray paint in her hands. Ever since, the walls have become her favourite playground. She multiplies her projects and encounters, in France and abroad, between canvas and walls.
Her work usually represents portraits, sincere and spontaneous plain spoken faces that the artist tries to project through a palette of saturated and controlled colours. She chooses her colours according to light, thus allowing her to "sculpt" her portraits with acrylic and spray paint. Particularly sensitive to the theme of childhood, her portraits symbolise innocence, the age of reason, where recklessness nourishes hope and protects from reality. It is this natural and spontaneous sensitivity of the inner self that is reflected in the eyes that is captured by the artist, just as Kant said, "misfortune is that innocence knows so little about how to preserve itself and that can be so easily seduced".
Alice Isaaz
Alice Isaaz is a young French actress whose photography in Studio Harcourt captivated Sêma Lao. "Her photography stands out from all others" according to Sêma Lao. Used to painting portraits, the artist was not indifferent to the gentleness that emanated from the portrait. The colour work on the artwork brings another intensity to the eyes and face of the original photograph. This artist's style is easily identifiable, for its bright and colourful treatment of artworks.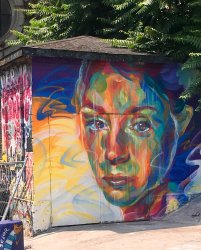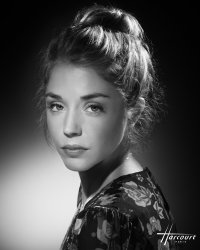 Sêma Lao loves to work in a free and spontaneous way, thus when she begins to work on a piece of work she prefers to skip the sketch steps and works directly with the colours, which are really at the heart of her creation. Equipped with her spray paint, Sêma Lao seeks to establish real links between her artworks and the public, for that, she practices a drip effect on her creations, forcing the spectator to adopt several points of view.
Other street art representations of Harcourt photos
Find more street art works of Alex aka Akhine & Neiiiz, Batsh, BK Foxx, Daniel Eime, the Movement, Romano, Marko 93, Jo di Bona...