Alex Aka Akhine is a French artist born in 1973. He works in Paris and lives in Saint-Ouen (93). His work exhibited at Parc de la Bergère in Bobigny on the banks of canal de l'Ourcq, is the result of a collaboration with Neiiiz.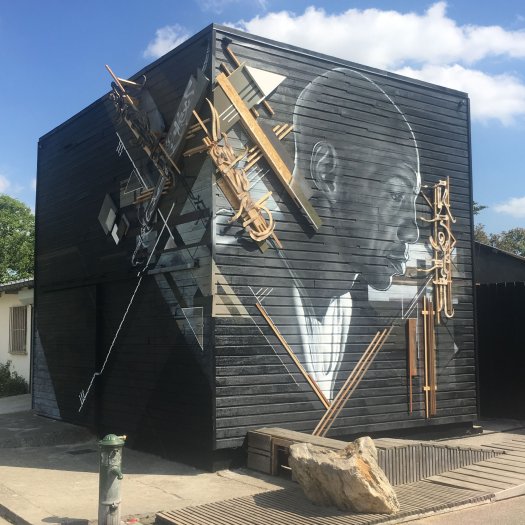 Alex aka Akhine
Belonging to the second generation of European graffiti artists, Alex Akhine worked with several groups of artists since 1987, which explains his attachment to this discipline and to the places where he carries out his artwork, such as Canal de l'Ourcq.
Being a representational artist, he is recognized by his peers as one of the references of his kind in France: he paints with finesse and precision, a face or a body, he concentrates on the expression in the eyes, textures, contrasts, perspectives, to conjure up a certain reality. Taking inspiration from the world of graphics such as comic strips or Art Nouveau among others, his compositions are also inspired by music that holds an essential place in his life and in his artwork creations. Music influences his imagination and deeply nourishes the emotions that emerge…
Tricky's portrait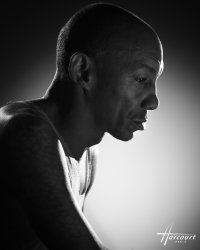 The artistic process of Akhine always starts off with a photograph combined with other visual and graphic supports, in order to create what he has in mind. It is all about building a story into his work, to add another reality, imaginary, personified, but not distort a prior intention.
Working from a black and white portrait of studio Harcourt goes without saying, a studio photo which he considers as being part of French heritage: "I am very honoured to work with a picture from the studio, it's a gift." The portrait of Tricky was obvious, as he is particularly attracted to this artist: for his personality, sensitivity, his history, his authenticity, his music... all of this represents a great source of inspiration. This portrait inspired by Studio Harcourt is the fifth one created by Alex Akhine on Tricky.
The fresco is the result of a collaboration with the artist Neiiiz who imagined the entire calligraphic aspect: evoking as many hieroglyphs and ethnic symbols as much as improvised shapes such as musical signs. The artistic background motif was done by these 4 hands in collaboration, by integrating the compositions of wood that compound and highlight all the materials used.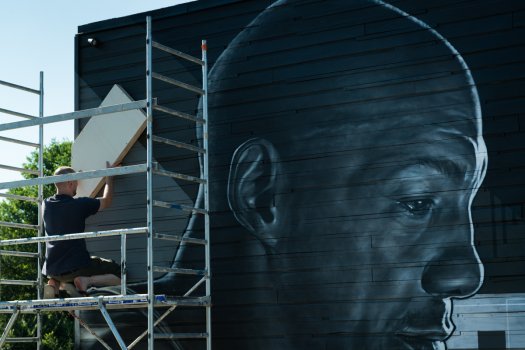 Detail © Arthur Crestani
Location : Maison - Parc de la Bergère - Bobigny
Size : 5 x 6 m
More street art of Harcourt pictures
Check the works of Marko 93, Le Mouvement, Batsh, Jo di Bona, BK Foxx, Daniel Eime, Sêma Lao, Romano...