Marko 93 is a French artist born in 1973. He lives and works in Saint-Denis (93). He made two paintings for this artistic trail exhibition with Harcourt studios Paris, the portrait of a hip-hop dancer Sarah Guem and that of Sarah Ourahmoune, Olympic champion in 2016.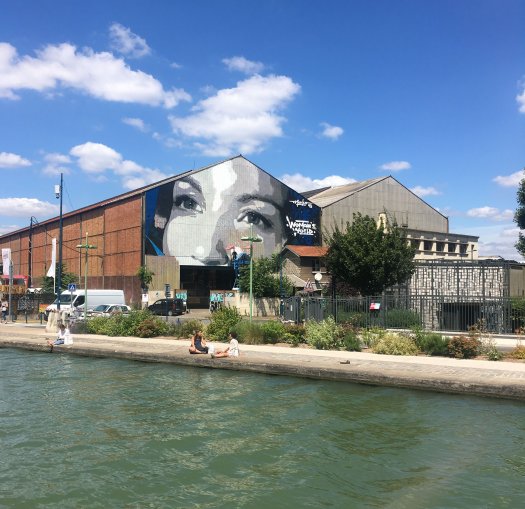 Sarah Ourahmoune -Marko 93 © Seine-Saint-Denis Tourism Board
Marko 93
Marko93 made his first marks on the walls of the town where he grew up, Saint-Denis. At the end of 1980, when the Hip Hop movement was emerging and spreading rapidly in the fringe of the suburbs and big cities, Marko 93 adopted graffiti as a means of expression. Wastelands, railroad tracks, housing project walls, were places where he nestled layers of this life in the suburbs. The early 2000's marked a turning point for him, and he asserted himself as an artist. Appropriating the persistence vision effect, Marko 93 reinvented, perfected and popularised the method of light-painting grazed by Man Ray and Picasso on photography by creating his first paintings made with gestures, colours and light. He multiplied these creations all around the world. For Marko 93, street art allows to establish a real connection with the public. It's under the spectators' eyes that artworks reveal their sense and meaning. The street art movement, by its spontaneity and accessibility, portrays the crossroads of reflexion and of values... « Art is mainly about sharing… »,  resumes the artist.
Sarah, the panther charmer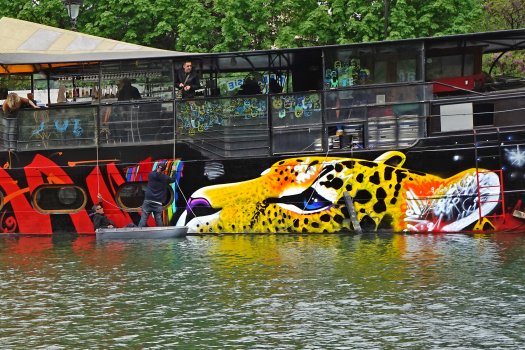 Fresco by Marko 93
This monumental work created with spray paint on the hull of the barge Grande Fantaisie is striking in its dimensions and the technical tour-de-force required to achieve this work of art. Marko 93 pushed the limits of his artistic concept as this work of art was done in just five days and in challenging conditions.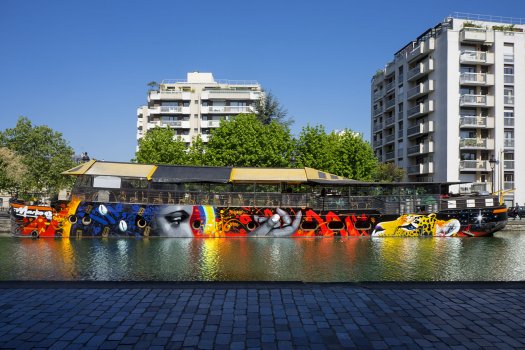 Sarah, the panther charmer - Marko 93 © Seine-Saint-Denis Tourism Board
Just as Studio Harcourt immortalised icons on photographic film since 1930s, light, a common medium with Marko93, is at the centre of the composition. The link and interest to work with Studio Harcourt became obvious. The fresco represents a poetic face to face with the black and white portrait of Sarah Guem, the dancer and her unique style, blending oriental and hip-hop dance. She is beckoning a panther with her hand, symbolising the sun and light. This style is accentuated with the characteristics of the feline belonging to the fetish bestiary of the artist present in many compositions including decorative signs inspired by calligraphic writings. This work is a modern synthesis of what Studio Harcourt incarnates for Marko 93.
Location: Barge Grande Fantaisie, 9 quai de l'Oise, 75019
Sarah Ourahmoune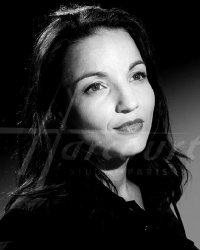 Sarah Ourahmoune is an emblematic figure in Seine-Saint-Denis. Silver medal winner in English boxing at the Olympic games of Rio in 2016, she has trained for many years at her club in Aubervilliers. The portrait underlines the softness and determination of women in general and the champion that she has become.
Location: Halle Pouchard - 1 rue du Cheval Blanc - Pantin
Dimensions: 15x 10 m
More street art works inspired by Harcourt
Don't miss other great artists such as Alex aka Akhine & Nheiiiz, Batsh, BK Foxx, Daniel Eime, Sêma Lao, the Movement, Romano, Jo di Bona...