The 11th Edition of the summer festival l'Été du Canal has a particular colour. Besides the other various festivities which were held all summer, the Canal de l'Ourcq has been transformed into an open air Museum over ten kilometres, from Paris to Bondy.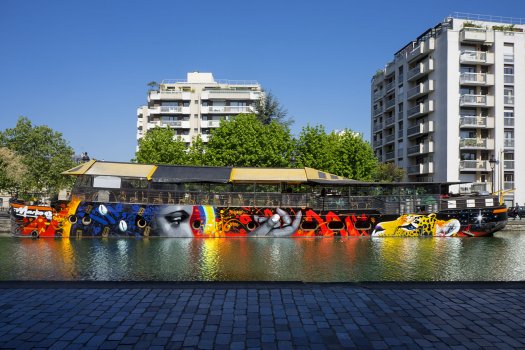 Marko93 for Été du Canal summer festival
Today you can still see several of the art works created during summer 2018 in collaboration with Harcourt. Discover them on your own during a stroll along the Ourcq canal or during a walk, bike ride or boat ride with a guide during l'Été du Canal.
Here are the next visits around street-art, sign up !
Artistic events of the summer festival Été du Canal 2018
An outstanding adventure, where thirteen French and international artists, from different artistic backgrounds came to work together on a common project: to create an ensemble of artworks relating the encounter of Studio Harcourt Paris and Canal de l'Ourcq,  and around what makes this encounter special : the light, black and white, popular cinema…
Street artists and contemporary artists hopped on board and created huge artworks. Facades of buildings, gable walls, barges, factories… the banks of Canal de l'Ourcq have been transformed into a huge playground where the city becomes the support.
An artistic journey to discover Canal de L'Ourcq
This unique artistic event is an invitation to discover canal de l'ourcq at your own pace either on foot, bicycle or boat from an art perspective. It is an unexpected viewpoint where locals, inhabitants of Ile de France, tourists and art amateurs will be able to admire these new creations from Point Ephémère Paris to Pont de Bondy.