Romano is a French artist born in 1982; he lives and works in Paris.
Romano & The movement, parisian street art collective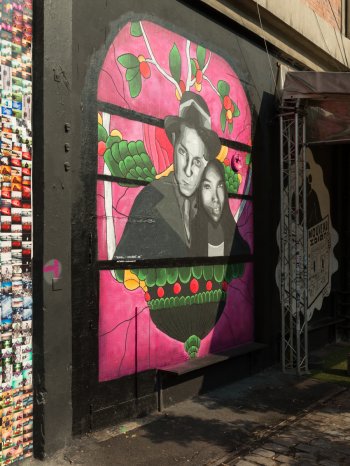 Drawing and painting from an early age, Romano attended evening courses at the National school of Beaux-Arts in Paris. He appropriated the walls of the French capital by leaving his mark on the walls trying out different art forms in order to better express his spontaneity: drawing, oil painting, acrylic, photography, stencil, collage... He progressed concentrating on faces, bodies and colours leaning towards more committed productions resulting from his cultural education: between French classicism and the hip hop of the 90s. His awareness of these two so different cultures brought him to question the vivre ensemble.
In 2013, he founded along with the artists Riks and Tiez the collective group "Le Mouvement" known for their artworks "Les parapluies", promoting the richness of social diversity. This work combines realism and poetry capturing shared moments between Parisian couples, linked together by their differences, united by an umbrella. These photographic collages are exhibited on the street in order to create the link between the subject and the passer by. With this unifying perspective in mind, Romano created a fresco on the wall of the first refugee reception centre at Porte de la Chapelle Paris.
Gabin & Aïssa, sacralisation of an encounter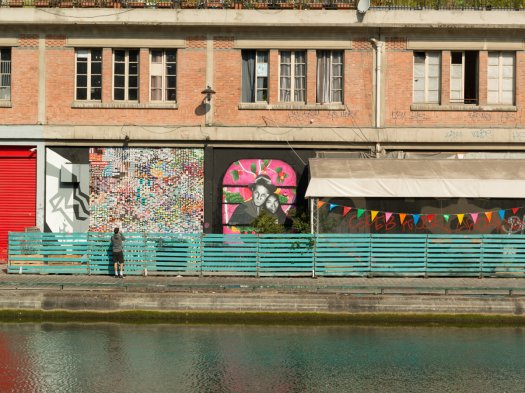 Romano idolises an encounter between Jean Gabin and a woman of our time, in this case, Aïssa. On a colourful stained-glassed background, composed of elements specific to the three monotheist religions and mixing renaissance and pop art style, the artist aims to elevate this couple to the rank of divinities, between a legend of French heritage and a French woman of today.
Location: Point Ephémère - 200 quai de Valmy, Paris 19
Dimension: 3 x 5 m
Don't miss other street art works inspired by the Harcourt photos by Jo di Bona, Marko 93, the Movement, Sêma Lao, Daniel Eime, BK Foxx, Batsh, Alex aka Akhine & Neiiiz...