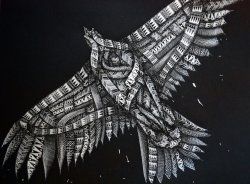 Matthieu Dagorn, aka LapinThur, is a graphic artist and part of the 9th Concept, alongside T.O. and Olivia de Bona. His artistic mode has oriented overtime towards typography and calligraphy and the use of patterns playing with light and shadow : the result is a beautiful photophore which conveys a Clara Halter universal message of love.
LapinThur has also worked on projects for private individuals – decoration of bedrooms, living rooms, cars, lamps, or projects in the textile sector, Brand name T-shirts or boutiques.
In 2012, he collaborated with a modelling agency to create a 3X2 bicolour work of art.