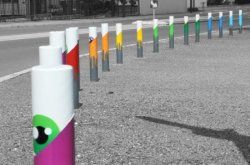 French artist, le CyKlop takes over public spaces and transforms the metal bollards that dot urban zones.
Le CyKlop brings to the streets his one-eyed character, in reference to the fantastic creatures of Greek mythology. He is inspired by the archetypes of popular art, comics, manga, toys... His character takes its image from the world of toys, from African Art, the animal kingdom or from popular mythology.
He leaves his mark in public spaces, original, free and universal, thus giving a fresh and playful eye on our society.
You can see his work along the canal de l'Ourcq in Pantin.