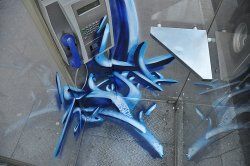 Djalouz is a graffiti plastic artist operating mainly in Paris. He developed abstract work by creating circular moving shapes and forms painted on unusual backgrounds. He tries to take the conventional aspect out of graffiti by marking the ground, the ceiling…
An enthusiast of unconventional and atypical places – blank walls and "brownfields" steeped in history – but also of urban street furniture, he projects his graffiti in space, playing with the different layouts, wall and ground. His work begins to make sense with the elements that surround it.
Djalouz participated in Montreuil Street Festival en 2015 with graffiti artists JBC and Le Cyklop and at the street art festival Colors in Paris in 2023.