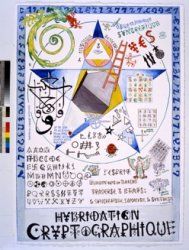 Jacques Villeglé is an important French artist who, since 1949, has been in quest of lacerated posters found during his random urban promenades. Inspired by urban reality, he is to some extent, a precursor to urban art.
The work of Villeglé has been the subject of over two hundred exhibitions in Europe, in America and in Africa, and has participated in various group exhibitions in all five continents. His work has been acquired by the most important European, American and Middle East museums.
A pioneer in New Realism, Jacques Villeglé mixed with Yves Klein, François Hains and Gérard Deschamps. The artist has exhibited more than 200 times all over Europe and America. Since 1949 he has been developing a sort of  restoration work of torn or lacerated posters found during his random urban walks. Describing himself as an "art collector", it is said that he is a "founder of  traces of civilization" (Walter Benjamin).This artist sees through these posters aspects of our lifestyles, "when I get hold of a poster I get hold of history"  he says.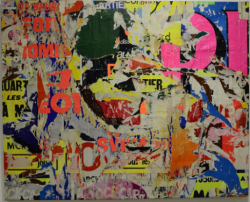 Strong in terms of reputation, Jacques Villeglé never misses out on the opportunity to meet up with streets artists such as Cristobal Diaz, Thom Thom, JBC, Medra...
You can also discover some of the work produced by about thirty artists during the Été du Canal 2014 by bicycle, on a boat or even on foot, alone or during one of the guided tours on Street art excursions.
In 2014, posters on a billboard became part of the global urban art Project of été du Canal festival; an art trail along the canal de l'Ourcq. The artist accepted the invitation by ART AZOI and thus coupled with a new generation of urban artists programmed for the event.