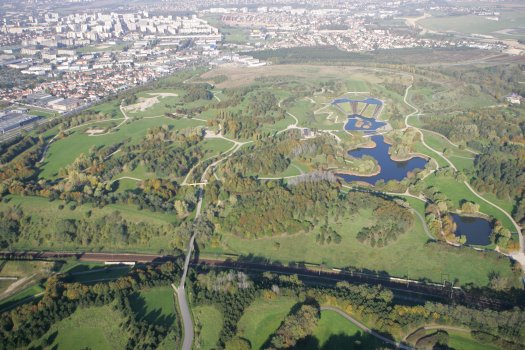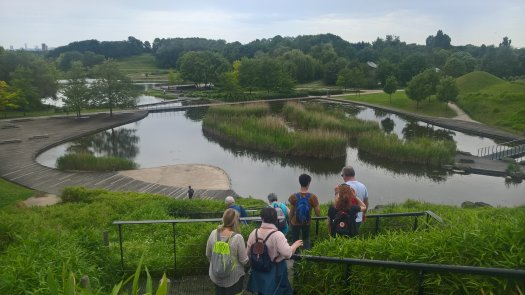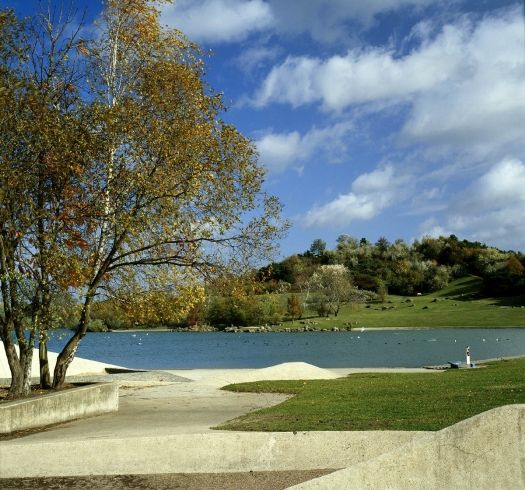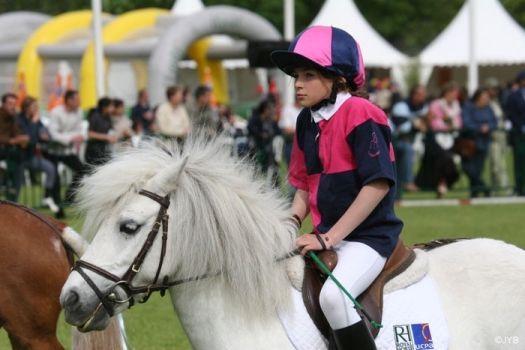 Visit the county park in La Courneuve in the North East of Seine Saint Denis. Georges Valbon County park is the largest park in the region of the Greater Paris area; explore 400 hectares of woodlands, lakes, waterfalls and leisure parks full of magnificent mature trees, a lake, planted arboretum with exotic species, wildflower meadows and community woodlands.
Not far from some of Paris' favorite tourist attractions, the park is well situated within easy reach, a luxury park, somewhere to escape and relax allowing visitors to cherish those special family moments after a shopping spree or a business trip.
Georges Valbon park is surrounded by pretty medieval charming cities and a great network of touring roads giving residents and visitors all the scope and choice they could wish for.
This beautiful park includes newly renovated playgrounds, carrousel, ice cream parlor, nature trails, a lake and soccer fields.
Georges Valbon Country Park covers some 400 acres of open space, which is managed for the benefit of outdoor-life for the community and visitors. The site was formerly once part of the prairie of France. This regional park in la Courneuve is known now as the largest man-made park since the era of Napoleon 111. However, its essential integrity was saved from urbanization through the persevering land key-policy actors. Their aim was to manage and protect this open-space area and its wildlife for the benefit of the public in an urban environment.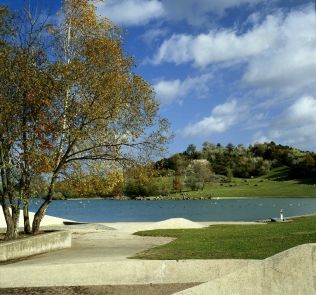 The brainchild idea of a public promenade was first issued in 1934 and it was not until 1954 that the planners drafted a sketch of the park and plantation began around 1960. Thanks to the 400 acres of land to be transformed into a beautiful park, they expanded and added small areas which, once completed, were opened to the public. Planners continue to focus and maintain quality transformation of this outstanding park. Their latest achievement continued in our era with the addition of the cascade opened in 2003. Thus, the history of the park and its facilities and works are closely linked to the technical, economical and historical achievement of the twentieth century. Over 2 million visitors per year enjoy the leisure park today for its natural resources providing a quality park. Its leisure and recreational facilities and its famous trails allow for a perfect outing in a peaceful and secure environment in Seine Saint Denis.
It is said that it will continue to expand and new developments will be added; it will soon extend to the district of Stains in Seine Saint Denis.
La Courneuve Fauna and flora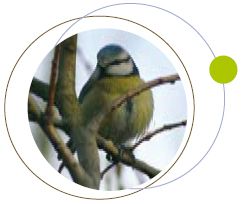 The park is characterized by its diversity and its relaxing scenery; it draws a delineated relief comprising a lake, wildflower meadows, flower gardens, woodland, grassland, marshes and reed-beds. It is an ideal spot for walking, cycling, picnicking, bird watching and fishing. The park boasts planned massive trees, walkers can observe well-known trees such as hornbeam, maple trees and include a myriad of species from abroad as well as trees such as balsam fir from China and Cedar from the Himalayas. The park offers valuable resources and thanks to the workers passion for the park, its conservation and clever management, it benefits from remarkable ecological wealth within the region of Ile de France. Discover a wealth of wildlife of over 140 species of birds to be found at sunny times of the year on a gentle leisure walk in the park. Enjoy the lovely songs of little crested Grebe, moorhen and marsh birds, reed warblers including many migratory birds. Most of them come to nest or just for a small stop-over halt. Some visitors may have the chance to witness some of the mammals and can come across many insects, such as Italian crickets, colorful butterflies as well as dragonflies. It is said that the aquatic fauna and flora is of particular interest too.
Honey-bee farm, the apiary of the park
Did you know that Georges Valbon park has hosted an apiary since 2007? Have you ever wondered what the inside of a beehive looks like? visit the park to see where the bees hang out! Bee workers fly out to collect nectar from flowers, flying up to a few miles around the hive. They do not venture beyond the outer circle and during this process they carry pollen from one flower to the next, thus cross-pollinating the plants. Bees are very important for our eco-system as they pollinate about 50% of all flowering plants. Hive worker bees store the nectar in hexagonal wax cells known as the honeycomb. They seal the cells once the liquid nectar has evaporated to a honey consistency.
The park's roses and flower gardens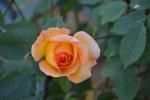 Admire the delights of the park showing a Rose garden which boasts about 15 000 rosebushes and a hundred colorful species blooming from June to September to envelope us in a real perfume fragrance.
Visitors can also admire the natural beauty of the valley of flowers spread over one hectare. This lovely area demonstrates the great versatility of flowers. Take a halt and enjoy the picture of a beautifully maintained flowerbed and nice patch of green in the sunshine and its splendid view.
The park embodies an extraordinary educational garden; it is an experimental aromatic garden. One of the principal aims of this garden is to encourage development and use it to serve as a support for nature activities for schools and individuals according to the booking agenda. Thus children learn about the natural world by becoming involved in appreciating and caring about the land around them in their future life.

The garden is open to the public.
The park's free activities
Appreciating golf as well as sports and cultural activities, many facilities are free..
Hire a horse-drawn carriage to ride around and see the parks from April to September
Two nature trails around the lakes and one around the trees.
A fitness trail
Four jogging trails of 1 km, 3 km, 5 km and 12 km
Eight guided trails in the park, maps and information details about the trail are offered at "Maison du Parc", French park reception desk.
Hiking trail of a 10 km loop. Booking with the French hiking federation team.
Features playgrounds; includes carrousel, swings, slides and a climbing frame, table tennis.
Bikes, tandem bikes and quad sport rentals
Paddle boats and rowing boats
Roller practicing lanes
In summertime many activities and entertainment are proposed to all the public.