Hiking path in the Georges Valbon park - La Courneuve
PR5 is an urban hiking path crossing the Georges Valbon departmental park in La Courneuve, in the Parisian region. This 8 miles walk whill take you through several Grande Randonnée (GR) trails starting from the Six-Routes crossroad at La Courneuve.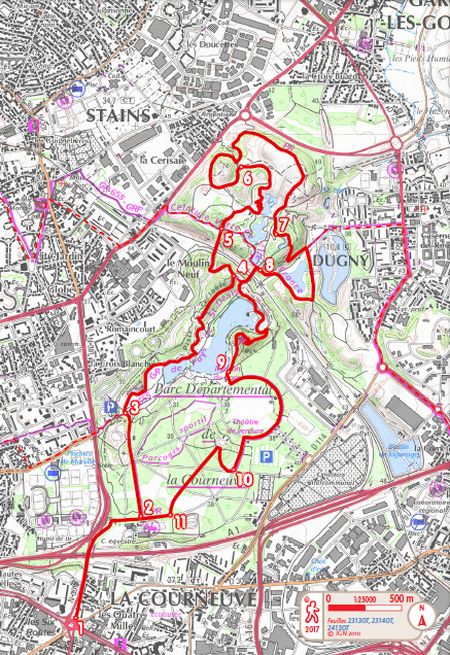 Markings in yellow
From Six-Routes crossroad, take the avenue Roger-Salengro to enter the park of La Courneuve.
Go left on the path facing the equestrian center and keep walking to the intersection of GR® 655 (Saint Jacques de Compostelle) and GR® Pays de la Ceinture Verte d'Île-de-France.
Keep walking and take GR® 655 and GR® de Pays paths.
Turn left and leave GR® 655.
Go straight forward and cross again GR® 655 and GR® de Pays de la Ceinture Verte d'Île- de- France.
Keep left and keep walking to Haricot pond (étang Haricot).
Skirt the pond by the left and go straight to pont des Iris (bridge).
Take a left turn and cross pont des Iris and keep left to avoid the lake. Go straight to the belvedere.
Just before the Maison du Parc, follow the left trail to the round path. Go straight on the left, reach the refreshment stall and turn left on the large path.
Go right and follow the right path in direction of Théâtre de verdure. Turn left and go down to the equestrian center.
Take the path on the right to go back to the headtrail and to the T1 tramway.
Other hiking paths: Canal Saint-Denis, Sausset Park.
Book your Paris guided tour