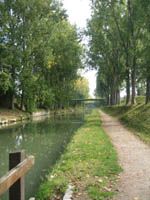 The French Hiking Federation accounts for 2800 associations, 180000 km of marked path and trails ; GR® et PR® which are long distance trails for experienced walkers , 6000 volunteers, 250 hiking topo-guides, 170000 licensees and millions of ramblers.

The Departmental Committee of Seine-Saint-Denis groups together 28 local associations and 1800 licensees. It created and maintains 220 kilometers of marked trails in the Paris Region and has prepared, in liaison with the County Council administration to create 80 more thematic walking trails.
Outings take place throughout the year mainly in Ile de France but also during weekends or on holidays throughout France. Walking is, of course, an outdoor activity but it is also an opportunity to meet people. Whether you are a novice or a seasoned rambler, you will discover lots and share your emotions. Here is a list of walking trails:
Incurring little cost, it requires only simple equipment and demands of course respect of the environment and rules of the road. Alone or with family, among friends, today or tomorrow, it guarantees good health and pleasure.
Wether you are a group of friends, a sports club, a cultural association, a Works Council, you can, with the help of the Departmental committee of Hiking Trails, create your own affiliated association. That is to say, benefit from the many advantages, an insurance policy adapted to the activity, specific training, exclusive advantages offered by partners, assistance and appropriate advice.
Do not wait any longer, join the departmental committee of hiking trails.
Contact
1ter, place des Martyrs de la Résistance et de la Déportation
93110 ROSNY -SOUS - BOIS
Tel : 01 48 54 00 19
www.randopedestre93.fr
contact@randopedestre93.fr
Exemple of trails :