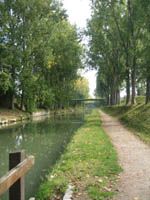 Hiking is, of course, an outdoor activity but it is also an opportunity to meet people. Whether you are a novice or a seasoned rambler, you will discover lots and share your emotions with your family or your friends.
Marked trails "GR" and "PR" in Seine-Saint-Denis
The Ile-de-France region has several marked hiking trails, created by the French Hiking Federation. Most of them are "PR" (Petite Randonnée – short hiking path), but it is possible to follow a "GR" (Grande Randonnée – long hiking path) on your way.
PR are marked with a yellow rectangle. GR are marked with a white rectangle on a red rectangle. GRP (Grande Randonnée de Pays) are marked with a yellow rectangle on a red rectangle.
Marked hiking trails have different degrees of difficulty: land, difference in height or level. In Seine-Saint-Denis, PR are not difficult to achieve thanks to the relief and the distance. Discover below all the paths:
If you are looking for a GRP you can also try the GR655 Saint Jacques de Compostelle walk.
The French Hiking Federation accounts for 2,800 associations, 180000 km (112,000 miles) of marked paths and trails, GR® and PR® trails, 6,000 volunteers, 250 hiking topo-guides, 170,000 licensees and millions of ramblers.
The Departmental Committee of Seine-Saint-Denis groups together 28 local associations and 1,800 licensees. It created and maintains 220 km (136 miles) of marked trails in the Paris Region and has prepared, in collaboration with the County Council administration to create 80 more thematic walking trails.
You enjoy being outside? See our outdoor activities.
Contact
1 ter, place des Martyrs de la Résistance et de la Déportation
93110 ROSNY -SOUS - BOIS
Tel : 01 48 54 00 19
www.randopedestre93.fr
contact@randopedestre93.fr