Are you looking for somewhere to jog on a Sunday or to train for a race? Beginner or experienced, amateur or professional, every runner will find what he's looking for in Seine-Saint-Denis and north-east of Paris from 5km to the semi-marathon.
8 places to run all year round in the North-east of Paris
Parc de La Villette
Parc de la Villette is open all year round. It is easily accessible by the tramway line 3b and the subway lines 5 and 7 from the center of Paris and the inner suburban ring road. This flat but rather diversified running route is suitable for beginners. There are several drinking fountains along the way. The parc is crossed by canal de l'Ourcq adding to your running time as far as Jaures for example. Run along the Bassin de la Villette, and then canal Saint-Martin. It is also an ideal starting point for a run along canal de l'Ourcq or Canal Saint-Denis.
A running path along the Canal de l'Ourcq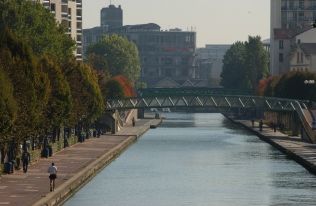 The Canal de l'Ourcq is ideal for running: it was recently resurfaced over several kilometers from Paris to Claye-Souilly. Joggers, ramblers and cyclists share this path. It is accessible all year long and moreover, it can be easily reached by the Parisian public transportation.
Since the development of the pathways along the Ourcq, you can get to the parc de la Bergère in Bobigny, and for the more courageous among you, as far as Parc de Sevran.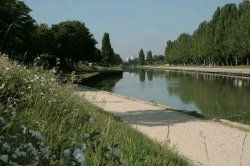 The Parc départemental de la Bergère is located on the banks of the canal de l'Ourcq in Bobigny close to line 5 of the Parisian subway. It is thus quite easily accessible from La Villette keeping to the path along the canal de l'Ourcq. A fitness trail is also available.
The Parc de la Poudrerie is a beautiful wooded park of about 137 hectares. This park much appreciated by runners features a pedestrian and bike trail with a loop of 4.5 km (about 3 miles) in a pleasant setting. It is also accessible by canal de l'Ourcq and public transportation (RER B).
Canal Saint-Denis right bank
From La Villette, you can take the right bank at the canal Saint-Denis to reach the green lane which has been recently developed from Aubervilliers to Saint-Denis over 5 km (about 3 miles). This part of the banks of Canal Saint-Denis is less visited than the canal de l'Ourcq and not so practical: even though the portion from Pont Landy to Stade de France – which can be seen from this bank – has been fitted out and the one that links La Villette to the Canal Saint-Denis is still under construction. This path is for runners who appreciate industrial landscape, and urban settings (sometimes punctuated by different landscapes). From this bank, in Saint-Denis, you can see the Stade de France.
Parc départemental Georges Valbon in La Courneuve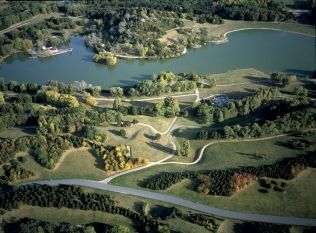 Parc Georges Valbon is very much appreciated by runners. This beautiful park stands out from other parks in the variety of its surroundings, from the vegetation to the birds that settle here.
Jogging in parc de La Courneuve promises the perfect run through beautiful meadows and valleys, alongside lakes and waterfalls! A fitness trail is at your disposal.
Bondy Regional park
Bondy forest attached to the Natura 200 network, features developed zones, a variety of landscapes and ponds. This forest is crossed by "chemin de la Dhuis", a green trail appropriate for running. The Espaces Verts agency d'Île-de-France proposes walking routes that you can run on also.
The banks of the Marne
La Marne crosses a part of Seine-Saint-Denis. Its river banks offer beautiful bucolic and accessible walks. The banks of the river give access to the beautiful parc de la Haute-Île spanning over 65 hectares where you will find plenty of plant and animal species. A gravel path goes right around the park stretching 3 km. Check opening and closing hours which vary during the year.
Parc des Buttes-Chaumont
This park located in the 19th arrondissement of Paris is very hilly and is recommended for experienced runners. For beginners, we recommend the small loop around the pond. Buttes-Chaumont park is equipped with drinking fountains. Note the closing times and choose your time to go running, this park can get very crowded.
Running paths in Butte-Pinson park
Butte Pinson park, located in the north of Paris straddles over 4 towns: Villetaneuse, Pierrefitte-sur-Seine, Montmagny and Groslay. Butte Pinson Park, which covers 114 hectares, overlooks the Paris basin. Ramblers, runners and cyclists appreciate its paths and trails.
There are many places for promenades, parks and green spaces at your disposal in Seine-Saint-Denis.
Running events in Seine-Saint-Denis
La voie royale in Saint-Denis
"La Voie Royale" is a running event that proposes four tracks: one race for the younger population - 1.4 km - 5 km (from 0,60 to 3 miles), the international 10 km (about 6 miles) and semi-marathon. The race passes near by the Basilica of St Denis and goes through the Stade de France. Relatives and friends can cheer on the runners from the stands of the mythical stade de France !
The pleasure of running, racing and trail sports in Montreuil
This race is organized by the association Courir pour le plaisir, it organizes several races each year (Montreuil, Vincennes and Paris). The Montreuil edition, in Parc Montreau, proposes 5 or 10 km. The concept will change in 2016: make room for trail sports !
"Running strides" 10 km races in different towns in Seine-Saint-Denis 93
Many cities in Seine-Saint-Denis - 93 department propose running competitions open to all (medical certificate must be provided) and most of them are free. Pantin, Noisy-le-Grand, Noisy-le-Sec, Dugny and Le Bourget with "Les foulées de l'aéroport" a rendez-vous for joggers of all levels.