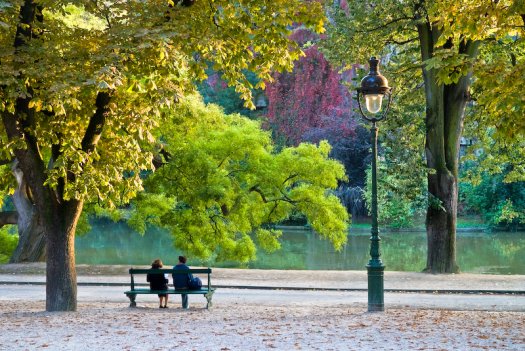 Park des Buttes-Chaumont is located in the 19th arrondissement in Paris – where Parc de La Villette is also located. With almost 25 hectares, it is one of the largest parks in the capital.
History of Buttes-Chaumont Park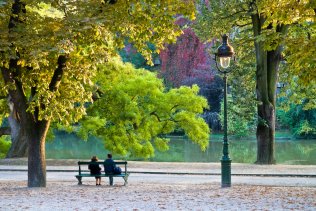 The park opened on April 1st 1867 on the occasion of the universal exhibition. It was built on a former gypsum quarry whose winding galleries attracted bandits at that time and which later served as a garbage dump. The park was built upon a request made by Napoléon III, who wanted to compete with London and create green spaces in Paris (Belleville town had just been attached to it). The hydraulic system and the landscape paths have been under renovation since 2012.
Activities, playgrounds, restaurants inside Parc des Buttes-Chaumont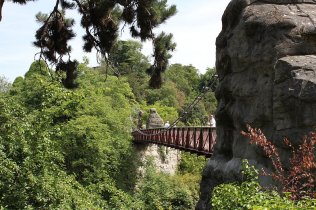 This very attractive park exhibits a rich and varied flora composed of plants and exotics trees. Many birds live on its artificial lake. Its steep terrain is appreciated by seasoned runners and walkers who also come to enjoy the beautiful view of Montmatre and other areas in Paris. This park is also one of the most original with its caves and waterfalls, its suspension bridge and the follies which overlook the park. The large lawns are accessible and it is also possible to picnic there.
The Parc des Buttes-Chaumont offers activities for children: puppet theatre, merry-go-rounds, pony rides and playgrounds. If you have older children, you should check our list of activities for teenagers.
2 bars and restaurants are located within the park: Rosa Bonheur, a stylish trendy tapas bar proposing fresh local French products from Camargue, and a restaurant, the Pavillon du lac.
Access, tickets and opening hours Buttes-Chaumont
The Parc des Buttes-Chaumont is open every day.
Summer: 7 a.m. to 10 p.m.
Winter: 7 a.m. to 8 p.m.
Open 24/7 from May 6th to June 30th
Access is free everyday all year long.
You can get to the park via several entrances on rue Manin and rue Botzaris, rue de Crimée and avenue Simon-Bolivar.
Only dogs on a leash are admitted in the park