Visit Paris as a family with our suggestions for outings suitable for children, teenagers and adults. Discover our top 10 family outings in the Paris region.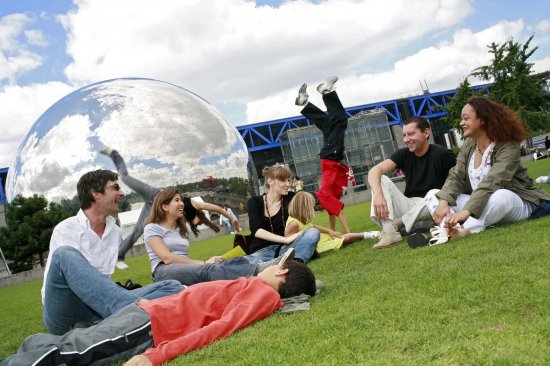 1. The Cité des Sciences et de l'Industrie in Paris
The Cité des Sciences is ideal for a family outing. There's something for everyone: temporary and permanent science exhibitions, planetarium sessions, a visit to the Argonaute and the Cité des enfants. Take the opportunity to visit the Parc de La Villette with your children.
2. Air and Space Museum
Take the whole family to the Musée de l'Air et de l'Espace at Le Bourget, a museum dedicated to aviation and aeronautics that is sure to delight young and old alike. Planète Pilote is dedicated to children aged 6 to 12, but adults and teenagers won't be outdone by the museum's other activities, including temporary and permanent exhibitions and the planetarium.
3. Behind the scenes at the Stade de France
Discover the secrets of the Stade de France, a mythical stadium that plays host to the world's greatest musicians, athletes and legendary events. Children and adults alike can follow in the footsteps of their idols.
4. Puces de Saint-Ouen
Take a family stroll through the aisles of the Paris Saint-Ouen flea markets. Children will particularly enjoy the stalls selling vintage toys. Adults will be overwhelmed by nostalgia as they rediscover objects from their childhood. Antique dealers will show you unusual objects and antiques that you won't find anywhere else.
5. Street art tours and workshops
Street art walks and workshops introduce the whole family to the techniques, works and codes of graffiti artists. Everyone can get their hands dirty with a spray can.
6. The children's Philharmonie
The Philharmonie de Paris has a music venue specially designed for children: The Children's Philharmonic. Little ones can enjoy discovering music and instruments, and parents can watch their children blossom with music.
7. Rosny-rail
Rosny-rail is a small museum dedicated to trains and railroads. The miniature layout, piloted by the public, will delight young and old alike, as will the scale models, explanatory boards and videos.
8. Adventure parks
The Plaine Forme park in the Bondy forest offers outdoor family activities: accrocranches, laser game, escape game, stilts... children, teenagers and adults will each find a suitable course.
The L'Île de Robinson indoor leisure park in Montreuil offers two playgrounds for children aged 4 to 12. A special area is reserved for toddlers. Parents can take advantage of the cafeteria.
9. Go-karting with the family
Take on your teens on an indoor or outdoor go-kart track.
Karting 93 in Aulnay offers an outdoor karting track. Karting sessions are open to teenagers aged 13 and over (1.50 m minimum).
Battlekart in Villepinte is a karting leisure center with a 2,000 m² indoor track. Several game modes are available. Battlekart combines karting and video games. It is accessible to people at least 1.45 m tall.
10. family visits and workshops
The Explore Paris online store offers child-friendly tours and workshops for the whole family: art and creative workshops, urban walks, guided tours...
Whatever you are looking for, the Parisian Northeast region is undoubtedly the next destination for your family outings. Do not hesitate to check out our suggestions for shows and exhibitions to be enjoyed with the children! We also include tips if your are looking for activities during school holidays or activities with teenagers. Take a look at the different public holidays in France to see what will be open or not for your visit!
Looking for more activities with children? Check out our page dedicated to them!