For a family trip it is often necessary to accommodate to everyone's taste. So, visiting Paris with your family especially with teenagers can be a real challenge. Teenagers are often in search of unusual activities or wish to experience fun-filled activities. Here are some ideas of activities to do with teenagers in Paris.
Check out also what to do during school holidays in Paris region.

Street art tour
Discover the Paris district on the trail of street-artistes with a guide: Ménilmontant-Belleville, Canal de l'Ourcq, Canal Saint-Denis, Montreuil and Saint-Ouen and places dedicated to  street-art such as Aérosol in the 18th district of Paris.
Discover the different street art walking tours of Paris and its area to do with teenagers.
Shopping with teenagers
Head to the parisian flea market. There, you'll find plenty of not-to-be-missed activities for amateurs of the eclectic fashion world. If your teenager prefers street-wear take him/her to the Malik market where he/she will indeed find the latest vintage fashion items at a reduced price. And for teenage fashion victims at the forefront of fashion in search of  that rare vintage piece to perfectly complete their wardrobe, take a look at the second hand clothing stores in the St-Ouen Flea Market : 80s vintage clothes, accessories from the 90s, famous for  second hand brand clothes … a treat for fashion fans.
Don't miss our list of our shopping centres in north-east Paris.
Fun-filled visits in Paris for teenagers
Do your teens prefer fun-filled and unusual activities? Check all the outdoor activities to do with a teenager in Paris such as bike or segway tours.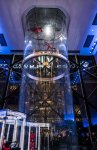 Teens looking for thrill will enjoy the Vill'up mall with the indoor free fall simulator and the indoor game areas. Treasure hunts or escape games are also available during events such as De Visu,  the European open heritage days or Paris Face Cachée.
The Air and Space Museum offers fun-filled activities, in particular simulators for young enthusiast and speed-crazy aviators who love mechanics as much as astronomy.
Visits for sports enthusiasts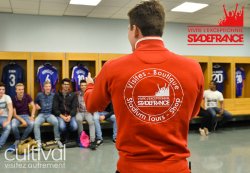 For football fans, a visit of the Stade de France is an absolute must. They will walk in the footsteps of their favourite players and champions in this mythical place of French football constructed for the 98 football world Cup.
Click here to check all the sport activities in Seine-Saint-Denis as well as all the sports events happening in Paris.
Visits around Science and Digital
Teenagers and youngsters crazy about new technologies and the digital world will find plenty to do at La Villette with Folie of Villette Makers who offer exhibitions and free Do It Yourself and Digital workshops.
At a walking distance, Cité des Sciences and its various temporary and permanent exhibitions will surely inspire young scientists.
Otherwise, ramblers, prefer to chill on the vast lawns of  Parc de La Villette.
Cultural Venues, Unusual sites
Paris and the department of Seine Saint Denis are full of cultural venues, museums, monuments, art galleries, that will inspire passionate adolescent fans of culture and art.
To find an exhibition in Paris consult our cultural diary.
Some teenagers prefer out of ordinary and unusual places that are less institutional. They are going to be thrilled because Seine-Saint-Denis and the 18e and 19e districts of Paris have lots of creation-growing areas that you can discover thanks to the abundant events. In order to have unique staying experience, try the peculiar resorts in Parisian region.  Other still-undergoing sites in rehabilitation are occupied by groups known as the "Collectifs".