Trends that have made news throughout the years... Flea-vintage!
Where to find best deals on vintage and antique items?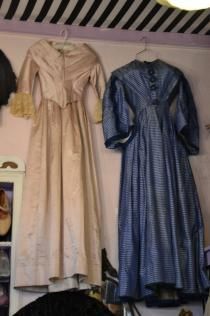 Looking for a fun activity to do at the weekend or on Mondays! Les Puces de Saint Ouen and the vintage boutiques there is the place to be to make a trip through time that will please as much children, teens and adults (you want more activities for teens? look here). 
The flea market trends known as "vintage" is a selection of shops with vintage style clothing, fashion accessories, retro jewelry and objects… Are you looking for the unique piece or simply want an exploratory trip to get an idea of vintage fashion? Then this vintage-immersion-trip is for you.
You will certainly find lace that attracts your eye on a garment or just fabrics handmade by some very talented lace makers, accessories like old hats, scarves, coats… Whatever your choice ; simply a taste, a desire to dress differently, to make yourself a wardrobe with vintage clothes from another generation, or simply a desire to go through with your passion for "vintage style".
Take yourself on a walking tour of the Flea market, meander through all the floors of the covered area of Dauphine market, come and stroll through the alleys to Le passage market and take a look in Paul Bert Serpette and Vernaison market.
Vintage shops
Alain Fradin and  Eric Fleuret: vintage 20th century (allée 5 Stand 212)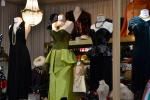 Alexis T.: Fashion designer (Stand 58) 
Artémise and Cunégonde: come and discover vintage  "Haute Couture" (allée 1 Stand 28)
Chez Sarah: Sales of vintages clothes and old accessories, jewelry, lace, ribbons, furniture but also everything related to olden-day fashion for women, men and children ; Le Passage Market.
David Netter: vintage clothes from the years 50 to 80, Design-Vintage (allée 2 Stand 32)
Docks de la Radio Sopradio: TSF, phonograph, cinema.
Falbala: Dauphine Market – 1st floor
Superb collection of clothes from the 18th century to the seventies for men and women (dresses, costumes, laces, lingerie, corsets, shoes, hats and many more accessories). It is  amazing, charming and financially accessible.
Foxystand: clothes, shoes, boots, Vintage (stand n°06)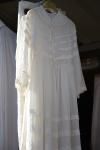 Francine Dentelles: collection of dresses and laces (allée 7 stand 121/123 – Vernaison Market) 
Are you looking for clothes with a kind of patina look... an old fabric, go to Francine Dentelles store. You will find a collection of clothes and accessories from the nineteenth and twentieth centuries, a little expensive but fragile and beautiful. You will also find vintage linen for your home.
La tranchée militaire: Here, you will find military and typical USA vintage (along Malik market). In search of rangers, navy coat, US shirt, Hawaiian shirts, suits, badges from different military regiments, military duffel bag… this is the place where the enthusiast can buy his/her favorite item.
La Marelle: Furniture and vintage decoration for children (stand 86 - Marché Dauphine - RDC)
La Marelle Antiquities proposes chairs, tables, small office desks, wooden benches, old toys (18th, 19th centuries and the fifties) for children. Almost everything is restored by Marelle Antiquités so that little ones can discover a particular style in comfort and complete safety. You will also find magnificent wooden furniture.
Les merveilles de Babellou: vintage - 12th to 20th centuries (allée 1 stand 12-13 and allée 6 stand 77)
This vintage luxury clothing store is located in Paul Bert Serpette market. It is an amazing place where you will find couture dresses, antique jewelry, hand bags, leather belt, designers shoes as Yves Saint Laurent, Lacroix, Chanel, Mugler, Hermès, Vuitton and many more…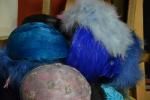 Mandana: clothes and vintage luxury accessories (ground floor Stand 71 – Malassis Market)
This shop full of luxury clothes, handbags, travel bags, accessories and scarves is profusely vintage. Madana Paris vintage boutique offers some authentic designer pieces for sale in consignment with invoices with expert assessment. (Chanel, Hermès, Yves Saint Laurent, Vuitton and many other luxury brands…)
Martine Vintage: located at 139 rue des Rosiers
Patricia Attwood: vintage called "Haute Couture" (Allée 2 Stand 7) – Serpette market.
A small sixties style boutique where Patricia Attwood proposes various vintage luxury accessories and dresses…
Giraud Art Déco: vintage jewelry, furniture, Art deco, light fixtures (Stand 91 - 91 rue des Rosiers). This expert from the twentieth century offers treasures such as Circa lamps, Crystal chandeliers, Murano lamps… a butterfly model bar, furniture such as dressing tables, chest drawers and a mirror-made chiffonier !
Sols Vintage: General vintage (Allée 6 Stand 234)
Ali baba's Cavern: vintage toys, antiques of all kinds, raw and naive Art - Vintage "Toys and Collectibles"
Sebbagh Virginie: Curiosity objects from the twentieth century (Allée 7 - Stand 146 bis)
Habitat - A Vintage shop located at 77-81 rue des Rosiers around Puces de Saint-Ouen: a place devoted to the selling and buying of furniture and home accessories (beds, dining room, kitchen, etc.) from old Habitat brand collections (from the 60s, 70s, 80s and 90s for resale. It is a way to renovate your home decoration in a particular style from another era.
Leather goods at the Saint-Ouen flea market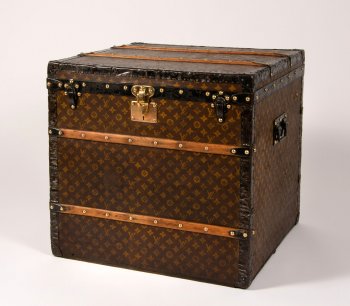 Accessories stands offer bags, suitcases, leather travel bags, trunks, purses, wallets, belts...
Specialist in luxury fashion accessories and luggage, Le monde du Voyage, located in the Serpette market (Stand 15 Alley 3) offers you quality articles. Suitcases, antique trunks and second-hand bags from major brands (Vuitton, Hermès, Goyard, Chanel).
Des Voyages : stand 10 alley 3 - Serpette market. Elisio Das Neves and Francis Toussaint have been specialists for 23 years in antique luggage and vintage luxury accessories from Hermès, Louis Vuitton, Goyard, Moynat and Chanel.
ISL Antiquités : stand 59 Allée 1 - 59 Marché Biron 85 rue des Rosiers - 93400 St-Ouen. Luxury bags and luggage (Chanel, Vuitton, Hermès, Dior, Fendi...).
The Fontain leather goods company offers unique pieces made to order by François.H. The skins used to make bags and wallets come from unused stocks of luxury houses or French tanneries. Stand 200 at the Dauphine market.
Need more advices?
Chek the free newspaper of the Flea market which describes each market and presents shops and merchants.
If you really like fashion a luxury clothes, you'll enjoy going to the Yves Saint Laurent Museum!