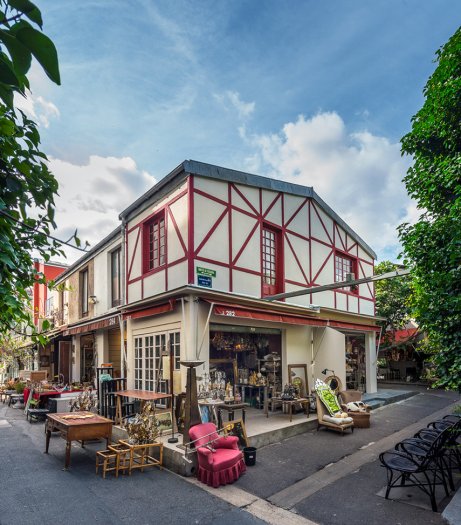 History of "Paul Bert - Serpette" market
"Paul Bert" market was created in 1946 by Louis Poré. At that time, it was the place to find practically everything but its muddy alleys were hampering its development. In 1949, several alleys were paved in asphalt and the first stores were built in this famous outdoor Paul Bert market.
In the early seventies, a successful antique weapons merchant called Alain Serpette bought a former garage close to "Paul Bert" market. Inside this former garage, he set up a new market little by little comprising 120 stands. This market was to become one of the most flourishing in the Paris Flea market.
Nowadays, "Paul Bert" and "Serpette" is one single market, part outdoor and part indoor within the Paris Flea market in Saint-Ouen.
Paul Bert - Serpette, the largest antique market in the world
In an area over 12 000 square meters, Paul Bert-Serpette is the largest market in the Paris Flea market and the largest antique market in the world.
Every week, from Friday morning to Monday evening, its 350 shops offer the best of antiques from Greco-Roman period to 20th century design, including fashion, luggage or tableware, for example scandinavian design furniture.
Paul Bert is one of the most important of the Parisian flea markets, comprising 200 shops along seven outdoor alleys, well-known among decorators around the world.
These shops offer pieces of furniture in Napoléon III style including industrial furniture or pieces from the fifties to the nineties. Chests in their original condition are also on show as well as nicely restored sofas. The Paul Bert market is considered trendy in the Paris Flea market.
Serpette includes 120 shops along its covered alleys. Silverware, tableware, 19th and 20th century furniture, art objects…these high quality products attract many professionals and decorators and make it an essential place to visit in the Flea Market, at the forefront of high-range antiques targeting a luxury clientele.
Each year, in September, Paul Bert Serpette invites its customers to take part in the night time Flea market Party.
Paul Bert-Serpette : renewal of luxury goods in Paris Flea Market
Since 2010, major transformations began in Paul Bert-Serpette. The starting signal for this transformation process was given with the opening of the restaurant "Ma Cocotte". In 2014, a new momentum was brought by the acquisition of Paul Bert-Serpette Market by the CEO of a French Internet company. He started renovation works to improve the comfort of bargain hunters and promote the gradual development of the chic and trendy part in the Flea Market.
Renovation of signs, restoration of façades and changes of showcases have given a new face to Paul Bert-Serpette. The indoor part of Serpette, now features glazed doors to protect costumers from draughts.
In Paul Bert, the outdoor part of the market, the façades of the small typical post-war houses were restored.
Restaurants in Paul Bert-Serpette
Two restaurants are located inside Paul Bert-Serpette market. "Le café Paul Bert" offers a traditional French "brasserie" atmosphere. "La petite salle à manger" is located in a former store in Serpette market. Two other restaurants are located in close proximity : "Une affaire de famille" and "21, rue du Plaisir", there are also many other restaurants in the Paris Flea market.
You'll find a restaurant at Paris St-Ouen fleamarket.