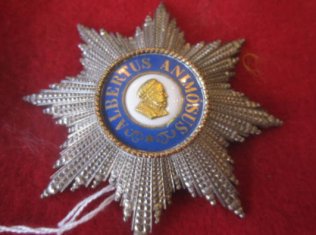 At the puces de Paris Saint-Ouen flea market you might not find many arms dealers but you can find some very beautiful old pieces at some of the vendor stalls. Check out the general stall holders who might have, from time to time, some firearms or other unusual collector's items.
Collector weapons, old pistols without or without box, original knives, sabres, an African projectile weapon, firearms, models, military crosses, amour and uniforms, documents and so-called Militaria artefacts or replicas.
Militaria objects, an historical souvenir at the Paris Puces St Ouen
A dealer specialised in militaria and a dealer specialised in historical souvenirs sell in fact the same type of objects each linked to military history and connected directly or indirectly to an historical figure.
Hunt for a collector weapon, an antique knive
Frederic Coridon (stall 2 alley 3 in Serpette market) offer for sale various types of antique weapons – swords, firearms: pepperbox, colt, percussion pistols, revolvers, liliput pistols but also sabres, daggers, breastplates and/or helmets, etc.
 
Lucienne Montmayeur – Le Zouave de Crimée – awaits you at  stand 286 - allée 7 in Paul Bert market with different « militaria » objects : various military crosses (Knights cross, medals or medals of military merit) but also old post cards, ornaments, small pieces of furniture, curiosities.
 
Le Curieux is situated at stand 126 allée 1 in Biron market (Paris flea market). Here you will find, depending on arrivals, different types of collector pistols : wheellock pistols, English pistols, percussion pistols by Blanchard, hunting flint-lock pistols but also, on some occasions, a crossbow, flint tools for hunting, swords of honour…
 
At Marie Bonnet's in Biron market – stand 62 and 62 bis. You can pick up, on occasion, a very chic Adnet shotgun holder or other objects of this type. You will also find in particular, all kinds of light fixtures from the 1950s to the 1970s.
 
Some advice before you buy a collector weapon
Do not rush buy head down without a minimum of « knowledge » on the object in question.
It is important to get advice from other collectors or from associations on the web such as :
UFA association de défense des collectionneurs d'armes anciennes (protects antique weapons collectors)
AFCB association française des collectionneurs de baïonnettes (bayonet collectors)
The ministry website for forms (if necessary)
 
In each case ask for an invoice, this is the law and cannot be refused you.
Legal documents and information on weapons collection
According to the law of 6 March 2012 and the decree of 30 July 2013 : arms collections are models made before 1900 (this does not concern the date of manufacture). Weapons manufactured recently (replicas) must not fire metal cartridge ammunition. Note that there are some exceptions and certain weapons are automatically excluded (see www.armes-ufa.com).
Antique firearms, collections are classified category D.
Carrying and transport of weapons without legitimite reason, weapon components and ammunition category D are prohibited. They are admitted only within the strict framework of an historical reconstitution (weapon components a, d, e, f, g and k from the 2° point of category D). It is necessary to prove a legitimite reason for transport with documents.
Reproduction of weapons collection
Reproduction of antique weapons and collection can only be imported, placed on the market or given away if they are compliant with the technical specifications defined by joint decision of the Ministry of defence and of internal affairs and the ministers responsible for industry and customs and observed in protocol expertise carried out by a technical establishment appointed by the Ministry of defence.