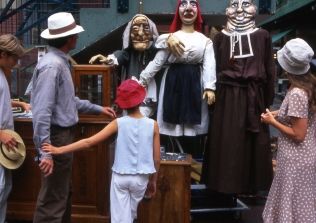 A visit to the Clignancourt Flea market with your family and kids is of course possible but requires a minimum of preparation.
Everyone in the family will find what they are looking in this paradise for bargain hunters. Parents who are looking for decorative or collectible objects will be overwhelmed by the choice. Teenagers who want to redo their wardrobe will love the fashionable clothes of the Malik market (if that's not enough, Paris has loads of trendy activities to offer). Small boys and girls will stand in awe if front of the many objects of curiosity.
Prepare and plan your visit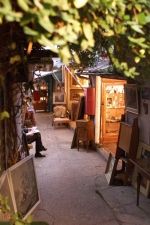 If you don't know the Saint Ouen flea market very well or if it's your first time in this largest antique market in the world, take the time to study the layout depending what you want to do and see before the visit. Locate all the main markets or the themed stalls that might interest you. The address to remember is: rue des Rosiers at Saint-Ouen which will lead you to each market except "le Passage", "Malik" and "Vallès" which nevertheless remain easily accessible on foot.
Like an elephant in a china shop

Before your visit to the flea market, it would be wise to explain to your children the value of antiques, that objects are rare, expensive and fragile at the Flea market, and that they can just "touch with their eyes". Children must can ask their parents or question the stall holder before entering the shop or before rushing in to see objects. And also, before rushing in to purchase, it is wiser to ask for advice. Note that breakages must be paid for. So a minimum of attention is needed, watch out for little hands and bags when strolling through the stands and alleyways.
Take a break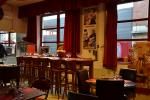 A lunch or snack break with family or alone, take time to stop for a break and rest and relax in one of the many restaurants located at the Puces de St Ouen. Yearning for a nice cup of tea, coffee or hot chocolate, wander through the different café-restaurants spread out among the different markets. Why not eat a pancake at any time of the day in front of the amazing Malassis market?
Gift and souvenir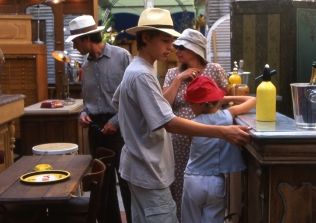 It is not just objects that are expensive at the flea market. There is plenty of opportunity to bargain for unusual objects at a low price, a lamp, a figurine, a trinket, old toys that cost only a few euros or a BD, a record (record maxi 45 tours)... a souvenir, that most wanted object that your child will immediately take to his/her room.
Unusual
Go around Dauphine market to visit and admire a strange ship: Maison Futuro. It is like a huge flying saucer about sixty square meters situated between the stalls and accessible by a small staircase which leads you to this amazing place that functions as an exhibition-sales boutique in a Pop atmosphere. Guaranteed to surprise adults and kids! How did this machine get into the market?
Do not try to see and do too much
With more than 1700 stalls, the Clignancourt-St Ouen flea market is huge with different sights and sounds for almost all tastes and budgets. To avoid tiring yourself out with the children and to keep a good memory of the place, come back again as much as you can. It is open all year round from Saturday to Monday with entertaining activities almost every weekend. It is a Sunday stroll for Parisians and others of all ages who enjoy strolling through this exceptional site near Paris or who are simply looking for that special object.
Choose your market before visiting with your family
This pre-planning will help you to find your way around the different markets and thus not waste your time when with your children. You can also check out the map of the flea market (pdf) to help you prepare your trip and locate the different alleyways in the flea market.
Rue des Rosiers in St Ouen
Dauphine Market (in a covered steel and glass building) : 150 merchants selling antique themed objects, second-hand goods, bookstore corner and old records in the music department, vintage clothes for men and women, laces, luggage, watches, design Pop. Several stalls will appeal to children or to adults reminding them of their childhood.
 
Biron Market: here also nearly 200 merchants present various objects on diverse themes such as Asian Art, lights, furniture from the seventeenth, ninetieth and twentieth centuries, tableware, art nouveau and art deco. Many spectacular objects will amaze the kids.
 
Malassis Market: antiques and decorations from the seventeenth to the twentieth century (there are about a hundred stalls) in this two-storey indoor covered market, an ideal place for a family shopping-day-out.
 
Vernaison Market: venture through the small charming alleyways of this Vernaison market with your family in search of antiques, scientific objects, toys, glassware  (about 300 stalls).
 
Take a look also inside Antica market, Cambo Market (furniture) and l'Entrepot Market: they are dedicated to "giant-sized" flea market objects : metal gates, iron or wooden stairs, statues, bookcases...  
Rue des Rosiers or rue Paul Bert
The lively and luxurious Paul Bert-Serpette Market : children will surely be impressed by the objects on show in the 350 trendy stalls, high range upmarket Products (furniture, old or luxury watches, table art, objects of art and decoration from the seventeenth to the twentieth centuries).
Rue Jules Vallès
Jules Valles Market: Ramble through this covered market, enjoy the flea market spirit, for the expert bargain hunter, furniture, objects of curiosity, posters, vinyls, books, military objects.
Rue Jules Vallès ou rue Jean Henri Fabre
Malik Market: Flea market for trendy clothes (sneakers, jeans, leather, etc), it is the place for fashion for all the family. Various street sellers of cool clothes can be found all along rue Vallès.
Rue Jules Vallès or rue Lecuyer
Le Passage: clothes (vintage, chic, laces), furniture, old books, military items, trinkets, postcards.
The stall holders open from 10:00 on Saturday, Sunday and Monday ; is the ideal time to come when it's not so crowded, and have lunch in one of the restaurants, a good time to buy non-bulky objects and get home early and not too tired.
Browse here for more ideas on outings for children: