Puces de Saint-Ouen feature many tableware stalls. Flea market dealers and specialists on silverware, glassware, crystal, pottery, etc. offer a specialized selection of silverware, porcelain plates, dinner sets, tea and dessert sets from different eras. Large tableware boutiques, such as Christofle, Saint-Louis, Haviland, etc. are represented. Flea market dealers even offer to find the pieces to match your sets.
If you cannot find your most wanted objects in the proposals below, please note that the general stalls in the Puces de St-Ouen also propose various items of tableware, dishes and utensils.
Glassware and silverware specialists at Biron market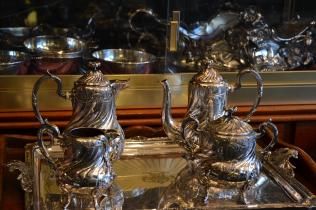 Gallery Laure Édouard proposes silverware objects, silver table sets and other pieces. It is located at stall number 29 in allée 1 in the Biron market.
Galerie Emmanuel and Olivia Silver fine art in Biron market also specializes in silverware. Find these 2 antique dealers at stalls  6, 127 and 128. They have a large selection of tea and coffee silverware sets, tureens, silver and crystal decanters, silver and vermeil household objects.
Verre Ancien is a stand which specializes in glass and crystal. You will find Baccarat engraved sets, flutes and champagne glasses, crystal wine cut-glass, bistro glasses, etc. It is located in allée n°1 in Biron market at stall 56.
Vernaison market : dishes and porcelain sets, glasses, crystal ware...
Catherine Daveau-Bitton invites you to allée 2, stall 127 bis at Vernaison market. Her stall is specialized in vintage glassware from the seventeenth, eighteenth and nineteenth century.
Rendez-vous at Maxime Castillo, allée 1 stall 14, to find vintage and contemporary glassware and crystal ware. Glass sets, bowls, vases, plates, glass or crystal glass from Lalique, Baccarat, Daum, Murano, etc., a pure delight for collectors.
Lamidesarts features a large choice of tableware articles, porcelain dishes from Gien or Sèvres, in silver or crystal: cups, sugar tongs, metal silver tumblers, salt shakers, etc. Alley 1, Stall 17 in Vernaison market.
At Arts de la Table located on allée 1 stall 11, you will find, in particular, magnificent sets of Limoges porcelain, of the brand Haviland for example.
Scènes d'Orfèvrerie is located on allée 4, stall 82. Discover the silversmith objects selected by Jean-Paul Chauvet, articles in metal or silver from the nineteenth and twentieth centuries.
Paul Bert-Serpette, the big names in table art and tableware
Les tables d'Eva. Eva Cwajg, the daughter of an antiques dealer, is passionate about vintage dishes. Her stall is full of wonders: ceramic slips, porcelain monogrammed sets, or floral motif sets, Baccarat glass, etc. A must-see of splendid art de la table at Puces de Saint Ouen Paris Stall 2, Allée 4, Serpette.
Cristal de France, Nicolas Giovannoni, Serpette market. This enthusiast on French tableware  will allow you to discover parts and pieces and sets from major porcelain factories, silversmiths and faience manufactures at Allée 6 du Serpette Stall 8 et 10
James Levy, at stall 100, allée 1 Paul Bert market,  proposes several silverware and glassware pieces.
Marie-Noëlle Jacquelin proposes vintage house and table linen: cloths, towels and Italian glassware pieces. Discover the curiosities of these stalls located on allée 5, at 198 and 233.
There are several silver and silverware specialists in the Serpette market including Alexis Allegro (allée 2, stall 8), Jerôme Chedmail (allée 3, stall13) and Marc Gaboriaud (allée 1, stall 40).
More about Paul Bert Serpette.
Other markets have general stands where you may find the articles or items you are looking for.
The free newspaper Le Village des Puces wrote an article dedicated to tableware in the 4th publication.