Many silverware vendors are located at the Paris Saint-Ouen flea market. Discover these flea market stores run by passionate antique dealers. Here you canfind some addresses of specialized or generalist sellers who propose objects and furniture made of solid silver or silver plated metal, or even vermeil. This vendors list is obviously not complete, so do not hesitate to spend some time in the different flea markets to find that unique Christofle object from the 19th or 20th century.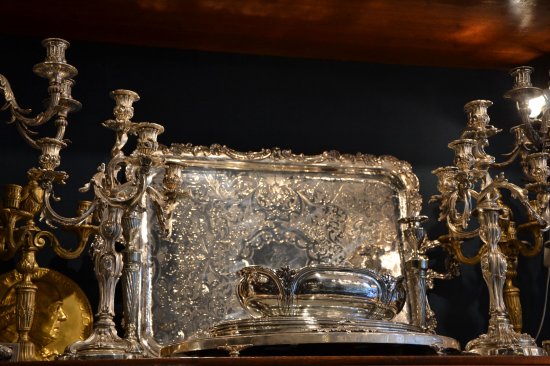 Silver tray at the Flea Market of St-Ouen
You can start browsing for silverware at the Paris Serpette covered market, accessible from the rue des Rosiers. Jerôme Chedmail (Aisle 3, Stand 13) is a seller specialized in silver and silverware from the 19th and 20th centuries. Mr Chedmail offers amazing silver objects such as Christofle silver bronze candelabra, a Sèvres vase with a silver frame and silver flask from the 1940s-50s.
You can continue your stroll through Serpette to Françoise Renoult's, allée 2, stand 17, an antique dealer specialized in charming and decorative objects, especially silverware, from the 19th century.
Related content : antique dinner services
You can go to Paul Bert market to Jammes & Sarah Levy shop (aisle 1, stand 100), specialized sellers around tableware, silverware, silver metal and solid silver from the 19th century, for example a Louis XVI style ewer in blue and silver stoneware or this silver chalice.
Also located at the Paul Bert market, Lewin Antiquities is a generalist dealer from the Haute Epoqueh until the 1980s. Rather focused on the 18th and 19th centuries, Bruno Lewin showcases furniture, trinkets, crystal, lighting, silverware and other objects.
The Biron market in Paris St Ouen can also be considered as one of the high places for the sale of silverware in Paris. Emmanuel Redon specializes in silverware, goldsmith's and decorative arts. You can find candelabra, table settings, trays, tea and coffee sets and other objects with famous names: Aucoc, Boulenger, Christofle, Têtard Frères, etc...
At Forty Two (Gallery 42 - aisle 1), Bernard Sellem sells astonishing objects such as a silver-plated metal serving trolley and chandeliers in gilt bronze and Baccarat crystal. The Dos Santos gallery (Galleries 2 & 3 - aisle 1) offers bronze and gilded metal objects.
Alexia Say is located in galleries 99, 100, 101 & 170, aisles 1 & 2. You may find silver housewares, coffee or tea sets, solid silver trays and other silverware.
Don't forget to visit Dauphine market, stand 101 (Delmar Fidalgo) specialized in gold, platinum and diamond jewelry as well as silverware.
In the Vernaison market, Samuel Loup stand is located allée, 7 stand 143. It jewelry, curios, silver champagne buckets.