General and specialised shops offer a wide range of antique and vintage jewellery at the Puces de Saint-Ouen. You will also find jewellery designers in the different flea markets and equipment to make your own jewellery. Precious or costume jewellery is waiting for you in the different flea markets: rings, necklaces, bracelets, wedding rings, brooches, cufflinks, precious stone ornaments... find the jewel of your dreams at the Paris Saint-Ouen Flea Market.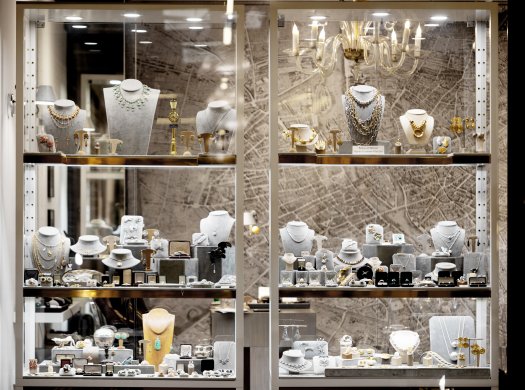 Stéphanie Corvez jewellery shop © Inu studio
Antique jewellery dealers at the Flea Market
A wide variety of jewellery can be found in many flea market stalls. Some merchants have made jewellery their specialty.
The Garance shop located in the Biron market (Galerie 114 - Aisle 1) proposes precious jewellery in gold, silver, coral, jade, pearls, diamonds?
Stéphanie Roudil-Corvez's shop located in the Marché Serpette (Aisle 3 Stand 23) proposes jewellery from major brands (Dior, Chanel). The boutique specialises in antique and modern jewellery and also sells signed jewellery.
Les Merveilles de Babellou in the Paul Bert market (Aisle 1 Stands 13 & 12/14/16/18 & 77) proposes fashion jewellery, clothes and accessories from famous brands of the 20th and 21st centuries (Hermès, Chanel, Givenchy, Nina Ricci...).
Autresorantic in the market Dauphine stand n°98 is specialized in jewellery: antique jewellery from the 18th to the 20th century, precious jewellery and vintage jewellery of major brands. The shop also makes jewellery on request.
Related : silverware shops in Paris
Jewelry designers at the Paris Flea Market
You can find several jewellery designers at the flea market.
Sylvie Corbelin, located in the Paul Bert market (Aisle 7 Stand 291), is an antique dealer and jewellery designer. She sells unique pieces or limited editions created from antique jewellery.
Céline Lareynie is a gold jewellery designer whose shop is located in the Biron market (Galerie 188 - Allée 2).
Simone d'Avray, a jewellery designer, can be found at stand 41 in the Dauphine market. She creates jewellery in natural stones and in particular earrings (unique pieces). She chines and propels to the sale of fancy brooches from the 50s.
Create your own jewellery
If you want to create your own fashion jewellery, some shops sell jewellery making materials. At the Vernaison market (stand 6, aisle 1), take a look at Lili and Daniel's to find out what to make your own costume jewellery: precious stones, trimmings, pearls, ties, threads, etc. Lili & Daniel also proposes fashion accessories.
Related : watches and timepieces at Paris St Ouen Flea market