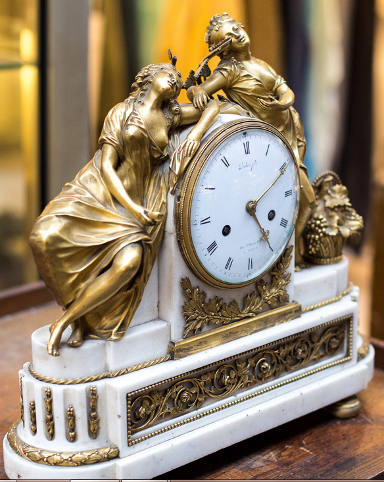 The passing of time, the ticking of a clock, a frame, a particular style easily recognised by the connoisseur : timepieces are your passion. Enthusiast or collector of beautiful, old and modern watches, cartel or pendulum clocks of all kinds, you are sure to find what you're looking for at the different stalls and markets at the Paris Clignancourt St Ouen flea markets.
All you have to do is browse around and tell the stall-holders what you are looking for on the grand theme of timepieces. Or, let yourself be carried away by the beauty of a watch, Empire clock or a Louis XVI style which would look really good on a dresser, period furniture or, for complete contrast, on a piece of modern furniture. Let yourself be tempted by the folly and grandeur of the brands : your eyes will light up at the sight of a Lip, Rolex, Patek, Zenith, Longuine, Omega, Le Coultre watch, or other beautiful timepieces from the makers Bell & Ross or H. Moser.
Don't hesitate to roam around the stalls in general in the different flea markets in Saint-Ouen Paris. These stall-holders can also propose unusual objects : classic watches, pocket watches, regulator watches, sundials, grandfather clocks, Meissen porceline table clocks, bronze pendulum clocks or other styles completely !
Dauphine market : antique watches, luxury watches
At Romain Rea's (watch expert) Paris Saint Ouen shop - Brocant'Heure - situated at stall 233 you can find a variety of antique watches and timepieces. Antique and vintage collector watches from the 1920s to 1970 but also a vast choice of "brand" watches from the famous Lip watches to the superb Rolex ones through to historic brands such as Auricoste or Dodane. He also proposes a selection of big and small clocks. Didier Gued, also an expert in timepieces, welcomes you to his stall 104 at Dauphine market Paris where he will show you a variety of watches, small jewels of technology that make up his ongoing collection.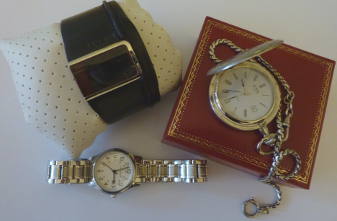 Matthias RICCI – JMWATCH at stall 16 – exhibits several antique watches, pocket watches, clocks big and small by major luxury brands.
At MDRS ANTIQUITE – Stalls 107 et 108 – here you can browse for clocks, 19th century pendulum clocks, mantelpiece ornaments (mainly clocks and candlestick holders).
Vernaison Flea market : pendulum clocks, cartel clocks and watches
It is in Vernaison market Paris that Riconti Bernard, stall 136 allée 7 (136 avenue Michelet in Saint-Ouen), antiques expert FNEPSA - Federation specialised in art objects - will advise you in the purchase of pendulum clocks, cartel clocks, pocket watches, regulator watches, clocks and mantelpiece ornaments.
Watches and clocks : Liberty's – stall 105 allée 3 – open on weekends
L'ami des arts – stall 17 allée 1 – can of course propose a small selection of pocket watches (some of which are the perfect jewel) but in particular silverware, crystal glassware and everything you need for tableware.
François Richard – allée 3, Stall 107 bis inside Vernaison market – is more specialised in what we could call "scientific objects". Don't hesitate to ask to see one of these famous objects and listen to its story (a rather surprising sundial, solar cannon, etc.).
Sundials, clocks and watches inside Paul Bert-Serpette market
Delmas horlogerie - antique dealer situated inside Paul Bert-Serpette market at stall 9 allée 3 – offers some unusual objects for sale : sundials, music boxes, pendulum clocks, alarm watches, school watches, regulator watches, table clocks.
Anger Antiquités – Clément Anger – situated at stall 4, Allée 4 inside Paul Bert-Serpette market offers a wide choice of objects : cartel clocks, pendulum clocks, a variety of asian art objects, French or bronze sculptures, antiques from the 18th to the 20th century.
Biron Market Paris and timepieces
Wander through the alleys in Biron market and look for a barometer, cartel clock, a Louis XVI portico pendulum clock or an Empire clock. Maybe you will find what you're looking for at Antiquités Arnaud Catel – stall 58 Allée 1 – or at Jean-Luc Ferrand's stall n°39 - Allée 1 (85 Rue des Rosiers in St Ouen) and his collection of scientific objects.
The Galerie ISL (previously based at Ile-St-Louis) is now located at stand 59 - Allée 1. Gérard Avrand proposes a variety of luxury watches ( time-consuming, automatic) but also jewellery, fashion accessories, luggage and furniture from the twentieth century.
Some definitions of objects related to time
Regulator watch
A regulator watch has a different watch-face ; time is segmented and the hours minutes and seconds are on separate dials. Regulator watches were invented by certain professions who wanted to focus on the seconds and minutes of the hour but not the hour itself.
Today a regulator watch is generally divided into 3 parts. The minute hand, which is usually the biggest, is in the centre of the main dial. The hands used to indicate hours and seconds have their own dial and are different in size. The hours subdial is generally at the top and the seconds subdial at the bottom.
Cartel
A cartel clock is a smaill decorative pendulum clock, attached to the wall (the cartel is the decoration around the dial).
Mantelpiece ornaments
Concerns all objects (pendulum clocks, burning torches, sculptures, etc) which are placed over the mantelpiece. Quite often it is a small clock with two candlestick holders, or a sculpture with two lamps, etc.
Solar cannon
The solar cannon was used to chime the hour at 12 noon and to set watches. It consisted of a miniscule cannon on a small stand. As the warm sun passed over it at noon, the concentration of light set light to the small quantity of gunpowder on the cannon.
The Meissen pendulum clock
A Meissen pendulum clock is made of porceline. Royal production at Meissen is the most well-known and can be recognised by two crossed swords marked on its pieces.