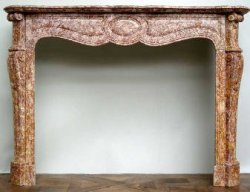 Whether we live in Paris or its region, a warm and energy saving fireplace lights up all homes and apartments.
Even if you do not have a chimney duct, you can put a chimney frame up against your wall and all that is needed to make it look authentic : a fireguard or fire screen, add some decoration and/or a beautiful engraved cast iron fireback.
All I need for my fireplace at the Flea markets
For a house with a chimney duct, you can find superb log holders, fireplace sets (tongs and shovel) and why not make it look even nicer by adding an art deco chimney frame made of marble or, if you have the space, a giant fireplace. But perhaps you prefer to have heat without flame : take a cast iron or ceramic stove. This page will give you a non-exhaustive list of stands that propose fireplaces.
Ornaments at the Dauphine and Vernaison markets
MDRS Antiquité - Stalls 107, 108 and 109 – at Dauphine market where one can browse for clocks and watches, antiques but also what we call "mantel garniture" : a mantelpiece clock (or central object) with two candle holders or two statuettes.
Riconti Bernard, located on stand 134 allée 7 and expert on watchmaking in Vernaison market, can advise you on a type of mantel garniture and in particular, ones that come with a mantelpiece clock.
Accessories in Paul Bert-Serpette market
Marc Maison proposes antique garden objects, French architectural pieces, and a vast choice of fireplaces (made of wood or other materials), engraved themed firebacks, trumeaux. Stand 83, allée 6 in the heart of Paul Bert market.
Aurélien Serre is located in Serpette Paul-Bert market and proposes a selection of furniture and light fittings from the 70s but also engraved firebacks with different themes that can easily be used as a sculpture art object . Rendez-vous at stand 6 – allée 5.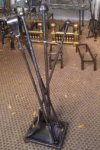 Paul Bert market - Marc Bouchetard – situated in allée 4 stand 229 and allée 5 stands 220 et 222 – proposes diverse objects such as andiron sets from different periods, fireplace sets, etc.
General dealers – Biron market
Come and discover the amazing range of fireguards at Martynoff Simon stands n° : 54 - allée 1 in Biron market. Here you will also find diverse objects such as lamps, tables, armchairs, mirrors and vases at this general stall-holder's stands.
Stands 144 and 145 - Allée 2, Patrick Darchis proposes old Paris fireplaces from the eighteenth and nineteenth century in marble, whole or partially.
Definitions of fireplace accessories
An andiron is an accessory fitting placed in pairs in a fireplace. It is used to keep the logs slightly raised so as not to smother the fire.
A landier is a high andiron. This type of big « andiron » could be surmounted by a metal basket that was used to keep a recipient hot.
Fire guards and variants
Depending on the period, use and size, the fire screen (fire guard) had several designations.
Fire screen or fire guard
This is a small piece of furniture comprised of a fabric or painted panel mounted on supporting stands and placed in front of the fireplace. It was quite the fashion up to the beginning of the 20th century. The fire screen was in fact a very light and decorative screen that could be easily moved to avoid getting burnt by sparks from the fire.
Fire guard :
This screen is comprised mainly of one or several fine wire mesh, held by a steel or bronze metal frame. This fire guard is placed in front of the fire to stop sparks from the burning wood hitting the floor and at the same time letting the heat through. These wire mesh fire guards often come in the shape of a dome, embrace and retain the fire ; which thus does not need to be supervised.
More recent design, screens made from tempered glass, translucent or opaque, are more discreet and provide the same protection while at the same time leaving the fire visible.