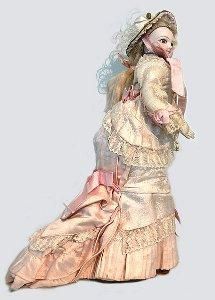 Games and old toys in Saint Ouen Flea Market. Looking for old toys and you just have the week end to browse ! Head over to Saint-Ouen flea market and let yourself be transported into a weird and wonderful world of antique toys and various collections. Toy making was once a very important industry in the 93 department and this explains the particular significance of toy shops in the Clignancourt flea market (St-Ouen).
Dolls, soldiers, merry-go-rounds… flea market vendors specialized in antique toys sell and exhibit objects that can sometimes be found in museum collections. Who does not have nostalgic memories of his toys ? You can find objects at the stalls that will bring you back in time; recalling an overwhelming feeling of awe in front of a Raynal doll, meccano boxes which made kids and dads dream ! All of them hurrying off to begin the construction of their Meccano toys or to put on track the famous electric train that took up plenty of space in our homes.
You should indeed not forget the various games which certainly are not as famous but can still make you dream to complete your collection or simply make you happy.
Visit the Malassis market under the great dome of the olive tree, and take a look also in Vernaison Market…
Vendors specialized in antique toys and amazing collections
Ali Baba's Cavern
Vintage toys, bargain-hunts of all kinds, Art: raw and naïve - Vintage "Toys and Collectibles"  
Sebbagh Virginie
Objects and Curiosities of the twentieth century (located in allée 7 - Stand 146 bis)
Happy days toys
Antique Toys and collection games dating from 1850 to 1950 located on the ground floor Stand N°5. Located in the Malassis market, La Collectionnite offers a variety of antique toys from the 1850's to the 1950's: metal, woods, figurines, robots, toy tin soldiers, cars, sailboats, etc., including the well-known brand names such as Dinky Toys, Citroën, Hornby. You can find rare toys in good condition. If  you have an exceptional toy still in good condition you can contact the store. The shop is moving in March to the Vernaison market. 
Seine Saint Denis' Toy story
Seine-Saint-Denis department is a department that loves toys, but also in the history that it represents… it all started in Bobigny in 1951: where more than 500 000 boxes of Meccano games and Dinky Toys were produced daily ! And it is also in the city of Montreuil where the Raynal dolls were born (a hint : the dolls are marked behind the head with a rectangular signature stamp and they are either made of soft  fabric or of rhodoid), twin-baby dolls, bathers and electric trains made all kids happy… at that time.
JEP, initially named Jouet de Paris has no longer existed since 1969, but this famous brand made toys that still sparkle a glint in any toy-collector's eyes today : train-toys (their main product) small tin-cars, boats and also what you may be less aware of… miniature stoves.
The biggest brand-name toys were manufactured in Seine Saint Denis and may be found under company or celebrity-brand names such as : Meccano, Hornby, Dinky Toys, JEP, LR (the initials of Louis Roussy but also known for its other name "Le Rapide": trains made of brass, wood or steel which are miniature trains that look amazingly real) and many others…
If you like toys may be you may be interested in the Clignancourt record shops.