Several dealers specialize in Nordic and Scandinavian design furniture at the market in Saint Ouen. See this page for a selection of addresses on where to find Scandinavian and North European furniture. The list is non-exhaustive, feel free to bargain hunt throughout the various flea markets if you are looking for Swedish, Norwegian, Danish or Finnish furniture.
Addresses in Paul Bert market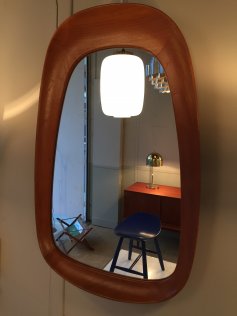 You can start your flea-bargain-trip in search of Scandinavian design furniture in the Paul Bert Serpette market, at the corner of alleys 1 and 6. Rémy Labergère and Vincent Vauban have been settled here for many years in Paul Bert Serpette market, stalls 142 and 144, Allée 1. These two market dealers offer furniture and European decorative objects: French, Italian, Scandinavian and Belgian.
Just beside R. Labergère and V. Vauban, still in allée 1, you will find Raphaël Druet (stall 136) is specialized in design from the fifties  to the seventies. The Raphael Druet gallery proposes coffee tables, Danish side-boards, trunks, lamps and other Scandinavian design furniture.
Continuing along alley 1, stop at stand 65 in Paul Bert market where Sylvain Loignon set up shop in 2017. This autodidact fell in love with Scandinavians design and now proposes several furniture pieces including chairs and other seat forms (benches, sofas, armchairs).
In allée 2 of Paul Bert market, you will come across Aj'tation at stalls 131 and 133. Antoine Geoffroy of Assy and his stall Aj'tation specialize in twentieth century furniture of Scandinavian design. Since the early 2000s, this boutique has proposed structural elements in  wood (teak, oak and rosewood), sofas and Swedish lamps from the sixties, but also Swedish and Danish mirrors, customized hanging lights restored…
Katia Apelbaum and Arnaud Volfinger at Serpette market
Near these two stalls mentioned above are Katia Apelbaum and Arnaud Volfinger. Their stall (located at  numbers 18/20 & 23, Allée 3, in the covered Serpette market close to the small coffee restaurant "la salle à manger") focuses on twentieth century furniture and  particularly Scandinavian design. Katia Apelbaum and Arnaud Volfinger also propose lithographies and original silkscreen printings, as well as a selection of contemporary photographs.
The Futuro house in Dauphine market
Do not forget to take a look at the Futuro house by the Finnish designer Matti Suuronen located in the covered Dauphine market. This small saucer-shaped house illustrates perfectly the "pop" trend design of the sixties-seventies 60-70 and its futurist inspiration. Pop furniture is all in curves and shows the concept design of futurism at that time.
Do not hesitate to ramble through the markets: Dauphine, Malassis, Biron and Vernaison in the search for sellers specialized in Scandinavian design furniture and old furniture.